Human hair full lace wig or lace front wig or top closures can change women's hair style easiy and they achieve many amazing styles,their are varied lengths or colors for choice.mainly include full lace wigs and lace front wigs, A full lace wig or lace front wig made of rea human hair offers all of the smooth, natural beauty of hair and is more natural looking than synthetic hair full lace wig or lace front wig. Just like your own hair, such wigs can be colored in order to instantly change your look. Learn how to color real human hair wigs at home for everyday use or a special event.
1.Wash the human hair full lace wig or lace front wig with a gentle shampoo and do not apply conditioner or any styling products. Let the wig to air dry for 48 hours.
2.Comb the full lace wig or lace front wig or top closures with a large tooth comb to straighten out tangles. Separate the wig into small sections and pin together using the hair pins. The size of each section will vary according to the length and volume of hair on your wig. Typically, each section should be the size of an amount of hair you can grasp in one hand.
3.Prepare the hair dye. Use a home hair dye kit such as those offered by L'Oréal Paris or Garnier and sold in most grocery stores and general retailers such as Wal-mart or Safeway. Prepare according to the specific product's guidelines. Typically, you will empty a hair dye mixture into a bottle filled with a peroxide base and shake vigorously to mix the two together.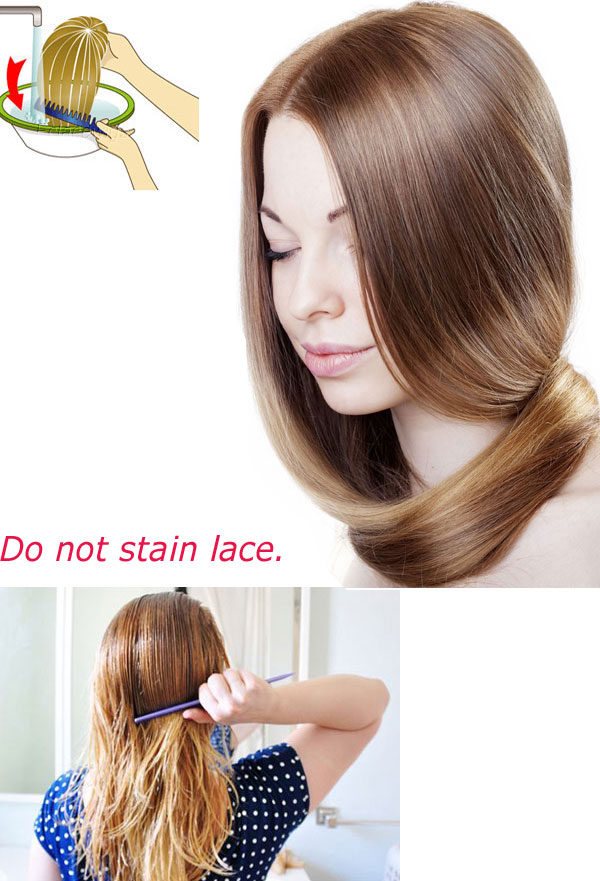 4.Put on the plastic gloves included in your hair dye kit to protect your skin from the dye's chemicals. Apply the dye to the wig one section at a time to ensure even coverage, removing each hair pin as you progress to a new section. Apply from the tip of the hair to the roots.
5.Wait for the dye to work according to the timeline laid out in the specific dye product's guidelines. Most dyes will fully permeate the hair shaft within 30 minutes.
6.Rinse the human hair full lace wig or lace front wig,top closures under warm water(do not use hot water). Run your fingers through the wig until the water runs clear. Apply the intensive conditioning treatment included with the hair dye kit to reinvigorate the wig's hair shafts with moisture and limit the damage caused by the dyeing chemicals. Rinse, air dry and then you can wear and care the full lace wig or lace front wig as usually.