The cap style of lace wigs is different from regular wigs.Theie is lace around the edges or front hairline of the lace front wig cap that gives the appearance of a natural hairline and freestyle,the hairline can be fixed by yourself as well. while the regular wigs don't have the natural hairline. Lace wigs include two main types: lace front wig and full lace wig. Lace front wig includes a natural hairline in the front and sides of the wig, the front lace wig can be worn in a ponytail, full lace wig includes lace on whole wig cap, which allows you to pull your hair up and style it however you choose. If you have a lace front wig, you can style it just as you would your regular hair if it is made from human hair.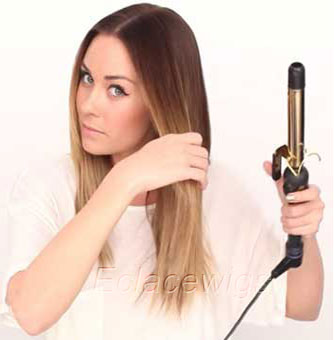 Curl human hair front lace wigs: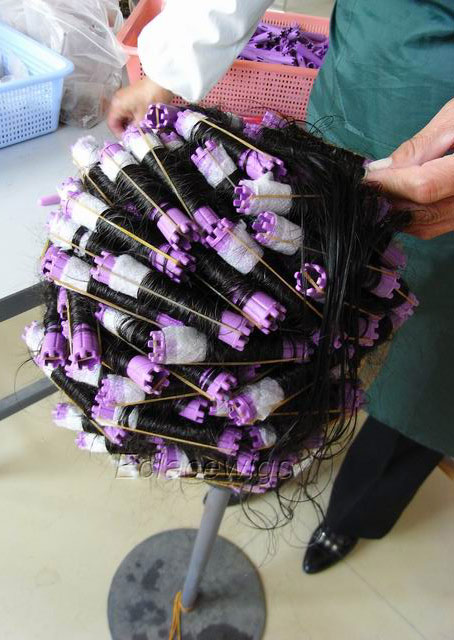 Ensure that your lace front wig is made of 100 percent human hair instead of synthetic fibers,the heat will cause the synthetic fibers to melt.when hair mixed synthetic,hair will be bonded into one lump and tangled by heat.ensure the hair is not small curl before you curl it again,natural straight is the best style to curl. because once hair is curled to small curls,it can't be curled again and again.
Place your lace front wig onto your head or onto a mannequin head, whichever you choose.
Turn the heat setting of your curling iron to "Medium" or "Medium-High" to get a great curl.
Begin curling your lace wig by wrapping the hair of the wig around the barrel of the curling iron. If you like, you can apply hair gel or spritz to your curls to make them more defined. Continue curling until all of the hair on the wig has been curled.
Avoid pulling the hair with the curling iron, especially in the front and side areas where the lace is located. This is because the lace is very delicate and too much pulling will cause it to tear or fray.
Comb and style your lace front wig as desired after curling is complete. Spray your finished style with an "Oil Sheen" to add luster to your lace front wig.
Synthetic Lace Front Wig
Place your lace front wig onto your head or onto a mannequin whichever you choose.
Use a wide tooth comb to begin parting your lace front wig into small sections. A wide tooth comb is recommended because a narrow tooth comb can pull and stretch the synthetic fibers of the wig causing it to look worn and frizzy.
Spray each section of the lace front wig with hair spritz to help define your curls. Roll each section of the wig with hair rollers while the hair strands are still wet from the spritz. Be sure to wrap the rollers in roller paper before putting the rollers in your hair.
Sit for 30 to 45 minutes underneath a blow dryer that has been set to it's lowest heat setting. This will give the curls of the wig time to "Set" from the spritz that was sprayed onto it. Remove the rollers once the setting has completed.
Comb and style your front lace wigs as desired after curling is finished. Spray Oil Sheen on your finished style to add luster to your front lace wig.