Sometimes you want a new hairstyle in some occasion? then a lace front wig is the best choice!it is very cheap,natural looking and it is very silmple to apply.Prices for a synthetic lace front wig starts at about $25.00 and go up to around $28.00. and a human Hair Lace Front Wig start at about $63.00 and Up to $123 if the length you want is 24 inches! A human Hair Full Lace Wig Start at about $93.00 to over $200.
I will tell you in a few simple steps on how to apply a Lace Front Wig:
Prepare:
Put your hair in braids going back, or smooth back with a stiff brush or
put in a pony tail, secure with a rubber band.
It is important to shave your hairline back about an inch.so the hair don't get pulled out by the glue and allow the Bonding Glue to adhere more securely.
Then use rubbing alcohol to remove all oils, makeup and residue from around your hairline. Let the area dry completely!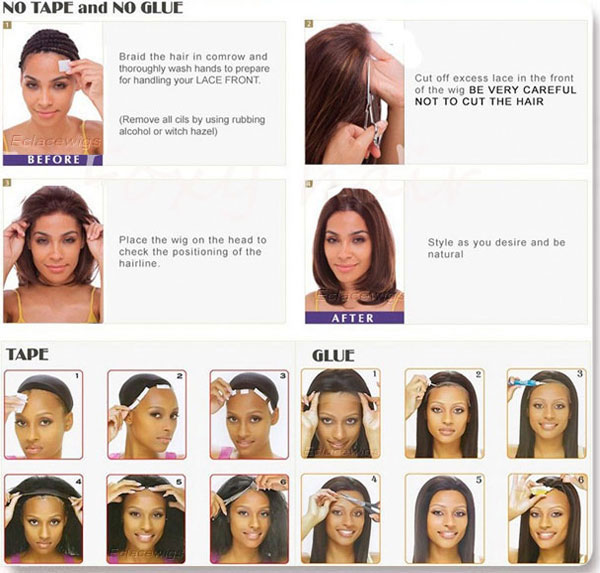 Before applying the lace front wig unit on your head, turn inside out to see if you can adjust the size with the adjustable hooks to a size bigger or smaller depending on the size of your wig and your head.
Place the lace front wig on your head, hold the front of the lace wig, gently pull on the front.
Now pull down in the back, If it has small combs in side, stick them in your hair to secure.While looking in a mirror make sure the wig is placed and centered correctly.
Now use a rubber band and clips to gently pull hairs out of the way into a ponytail before gluing into place.
Cutting The Lace:
Starting near the ear cut the lace as close to the hairs on the lace wig as you can without cutting the hairline or baby hair. Cut all the way to the center then stop. Go to the other side and begin to cut from the ear until you reach the center. Remove all excess lace then fold back about one inch from hairline, to expose where the glue will be applied to secure your front lace wig!
Using Tape Or Glue:
BONDING GLUE:
If using the bonding glue follow the manufactures instructions. But in most cases you will be instructed to allow it to set for about three minutes before setting the lace wig into place. This will give it enough time to get tacky (STICKY) enough to hold a strong bond.
BONDING TAPE:
If your use the Tape peel solid color side and then You place a piece about two inches long in the center of your hairline diagonally writing side up then another piece on the sides where you want the corner of the lace wig to be near your ears.
That's all you need. But if you want extra pieces can be added for extra security if you are very active.
Application Process:
Now: Starting at the center unfold and lift up and place over the tape and press down with your fingers then with the side of a comb until adhered.
Next do the same thing to each side in front of the ear area until unfolded and secure. Remove rubber band and style!
The bonding glue that you choose for your lace front wig will last from five days too three weeks!Now you get an amaziong new looking,enjoy it!