Coloring human hair wigs is not exactly the same as color your own hair on head,we must take notice the necessary precautions to handle and apply dye.just like human hair wigs must be cared correctly. The process is quite simple.coloring human hair wigs needs some attentions to detail and a serious adherence to the application time as well as the manufacturer's instructions.
Human hair wigs type commonly include full lace wig and lace front wig.
1.Wash the human hair lace wig to remove any product buildup or dirt and oils. Let the wig to air dry, you can blow dry,it is better to wait for 24 hours before coloring the wig.
2.Use a large tooth comb to separate human hair into four sections.Comb the human hair full lace wig or lace front wig to remove tangles.
3.Use an at home coloring system. Mix the color mixture in a plastic bowl or add system contents to the bottle provided.The process is simple: Just follow the directions offered by the manufacturer.In most cases,you'd better combine a colorant to a color developer. An after color conditioner need to be applied later.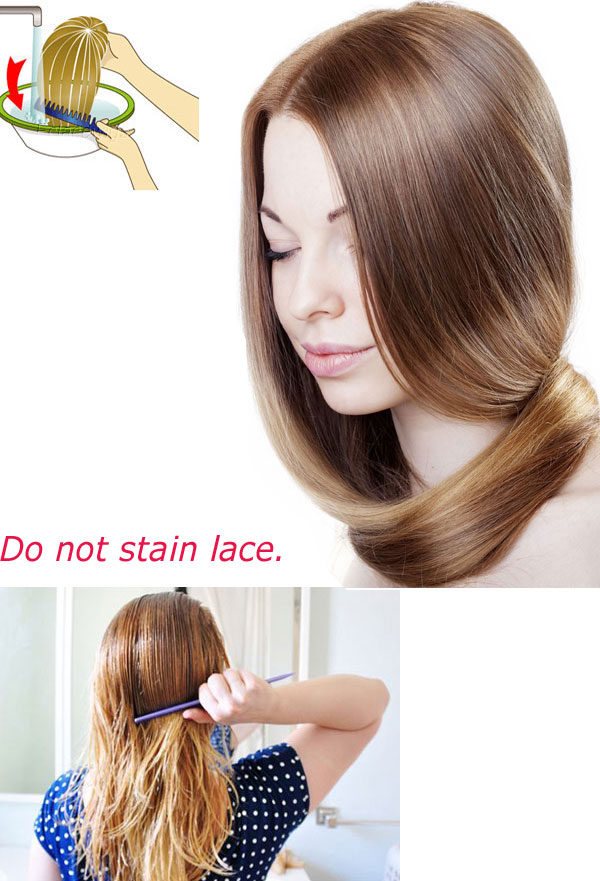 3.Mix content thoroughly and then wear gloves to protect your hands.Don't forget to open windows for ventilation.
4.Place the human hair full lace wig or lace front wig on a special mannequin head, if possible. Pull down on the human hair wigs to secure to the head. Avoid pulling the hair,as the lace wigs will slide off from the mannequin head.
5.Add dye, starting from the top of the wig.Think of the top of the wig, where it is woven or sewn into the cap or lining, as the root of the wig. Always apply from the top and move around the crown of the human hair lace wig.Once the crown is covered, move down each section, working your way to the ends of the human hair. Then move to the next section.
6.Allow the dye to sit for about 25 minutes. Human hair is subject to drying, breakage and loss of sheen.Never overprocessing your human hair lace wigs,overprocessing human hair wigs not only means you don't know how to care your lace wig,but means you don't love your wig at all.please care your wig by following the directions provided.
7.Aid a light conditioner to the hair for 3 minutes.Let the human hair full lace wig or lace front wig air dry and then you can style it to what you like.
We have thousands of hight quality human hair wigs on our site eclacewigs.com.you can choose the color and style you like and purchase from the site quickly,we can ship immediately.buyers can also choose a natural color full lace wig and dye themselves at home.