Lace wigs come in varied types, including full lace wig,lace front wig,glueless wig and thin skin lace wig. Thin skin lace wigs are popular because they give a more natural appearance than regular lace wigs, which allow adhesive to shine through the lace wig's hairline. Thin skin units have a more secure fit than traditional lace wigs as well.well.most thin skin wigs should be custom made from hair products factory.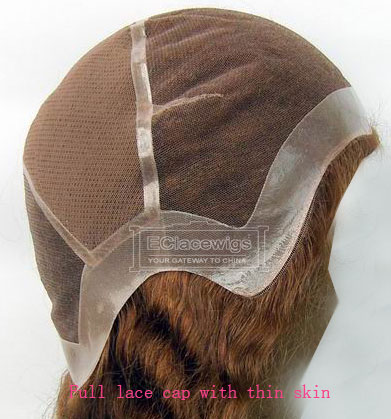 Things You'll Need:Scissors,Eyebrow pencil,Lace wig adhesive.
Steps:
1.Secure your natural hair to lay flat on your head, either by braiding your hair into small cornrow or wrapping the hair tightly around the circumference of your head and pinning the hair.
2.Put the thin skin lace wig(lace front wig or full lace wig) onto your head. Adjust the lace wig to the desired position properly.
3.Use the scissors to trim the excess thin skin material off the lace unit until it nearly meets your natural hairline. Leave a bit of thin skin material remaining right before your natural hairline so that you can glue the thin skin to your natural skin,avoid glue the thin skin to your hair!
4.Use an eyebrow pencil to lightly outline the thin-skin hairline after it has been cut. You can remove the lace wig unit from your head now.
5.Apply a thin coat of lace wig adhesive to the outlined area in front of your natural hairline. Many lace wig adhesives contain an applicator brush. If you have no applicator brush, purchase a small glue brush from an arts-and-crafts supplier. Allow about 10 minutes for the adhesive to become tacky, or sticky to the touch. If you apply too much adhesive, simply spray oil sheen onto the area and wipe away the excess oil.
6.Position the thin skin unit on your head as you did in step 3. Starting at the front of your head, press the thin skin material onto the adhesive. Continue pressing the thin skin around the circumference of your head until the unit is completely installed. Because the glue will still be tacky for a few minutes, you can shift the lace wig around to ensure it is in the desired position.