Many women choose to lace wigs and sew in hair weaves as a means of alternative styling. These type of hair replacement styling can come with a lace closure which is a means that blends in naturally while you can get a realistic looking scalp and hairline. This takes away the increased possibility of damaging your leave out especially when you have a sew in extension installed on head. As a method in the natural hair community and hair replacement, there's things you need to know before making a decision about what is suitable for you and what will work for you well. Lace closures and silk closures are quite different in how they are designed and made.
The Difference Between A Lace Closure and A Silk Base Closure:
Lace Closures: Lace closure is usually made from thinner lace base material that can sometimes cause the braids underneath to be visible if looked closely. To solve that problem it is recommended that a flesh colored lace cap be worn under the hairpiece over the braids,or choose a lace color that can match you skin shape. The biggest issue with lace closures is the color of the knots. The knots are often very dark on the lace base of the piece therefore offer a unrealistic appearance. How can this problem be solved? I'm sure you know many people "bleach knots". You must be careful when bleaching your own knots or buying a lace closure that has bleached knots as this can turn the scalp a rusty orange color that will also look unrealistic.when you bleach knots to heavy yourself,the hair will break from knots and shed madly.on the other hand,knots can't be bleached to very light color for avoid shedding problem,so bleach knots can't create invisible knots appearance.see picture below: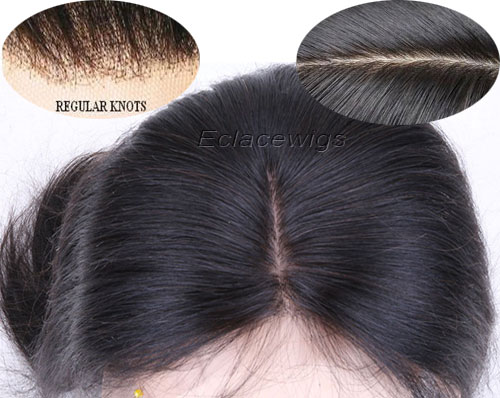 Silk Base Closure:
Silk base closures are made of a skin-looking silk material on the lace base,the knots are triple reverse knots,knots are hidden behand the silk, this is really invisible knots which means it is less likely or almost impossible to see what is going on under the wig or weave hair. This gives a bit of a more realistic or natural look that it seems the hair is grown from scalp enen look closely. However because different person has different skin shade or color you,in order to match your skin color you should choose silk color to match skin color,it you can't find the suitable silk color,you will have to blend the part with a form of make up. The biggest issue or inconvenience of silk closures is because of the thick material you will have a line of demarcation around the hair line that you will have to blend or pull a bit of hair out from the front to blend or hide.but our silk closures selling on eclacewigs.com can solve this problem: their are two line of single knots out of the edge of silk.
Great! you can make a decision to choose lace closures now. Make an informed decision which lace closure will work best for the style you are looking for, which can offer you most natural look.