Why Full Lace Front Wig is Better than Hair Transplant?
CopyFrom:www.eclacewigs.com Author:S Yuan DateTime:2013-06-26 Hits:532
Wearing human hair lace wigs is a great choice to get a natural looking for persons suffer from hair loss.While it will cost too much money if choose hair transplant.Lace wigs can creat a perfect natural hairline. This hand tied human hair lace wigs constructed with mesh lace has each strand of hair individually tied to the lace instead of hair transplant. it is sometimes called full lace wig and lace front wig which mainly include these two types. Full lace wig means lace throughout the wig and a lace front wig only has lace in the front and combine hair wefts for rest of the wig.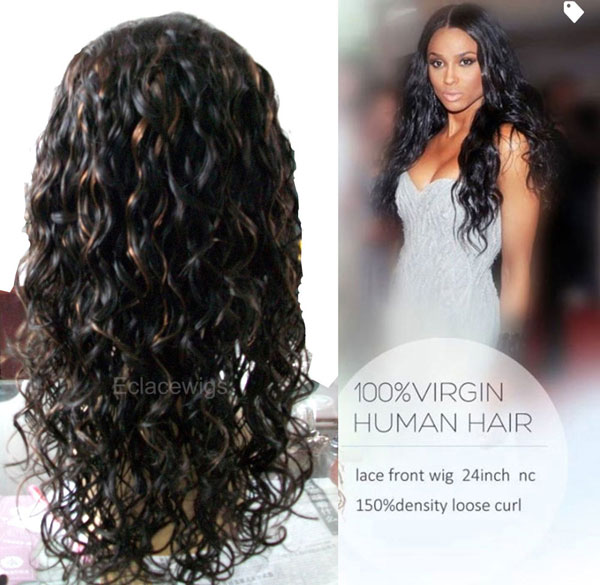 The History and Celebrities:
Human hair lace wigs were created mainly for cancer patients suffered from chemotherapy, and, people who suffered from alopecia areata, a condition that causes hair loss. However, as news spread about an undetectable looking wig, its reputation became increasingly popular entering into mainstream Hollywood. Many well-known Hollywood productions had their leading ladies wearing lace wigs, such as Beyonce whose lace wigs became the talk of the films.
Lace versus Regular Wigs:
Lace wigs combined with a strong adhesive can withstand any type of activity, including swimming and exercise. It can remain attached for weeks using glue or tape, be parted in any direction, and with proper maintenance, it can last six months to two years.this depend on hair care condition. While full lace wigs comprise a cap attached with thin lace, regular wigs consist of a netted wig cap with a restricted hairstyle and limited hair texture options. Unless it's sewn into the person's hair, the wig is usually removed on a day-to-day basis. Compared to ordinary wigs, the constructing process for lace wigs involves meticulously tying and knotting individual strands of hair creating an illusion that it is growing from the individual's scalp.
Difference Between Lace Front Wig and Full Lace Wig:
Lace front wig can be worn for up to three days, and they have a limited range of up-do hairstyles. Depending on the adhesive used, you can wear full lace wigs for one to two weeks. However, wearing a lace wig beyond two weeks could possibly damage your hairline. Lace front wigs comprise lace around the forehead, and the remainder of the cap consists of hair wefts. Since the lace does not extend to the back, the customer cannot style the wig into a bun or high ponytail. However, full lace wigs are manufactured with lace surrounding the entire wig and you can part from any angle, regardless of the hairstyle. In addition to flexible hairstyles,full lace wig allows the real hair to breathe, unlike a lace front wig.
Material and Use:
The creators designed various components of the lace wigs to best match the appearance of multiple ethnicities.Several lace colors were generated to match the complexion of the scalp. Lace wigs offer customers an opportunity to replicate their own hair or a celebrity's hair.You can choose the hair density,hair color,hair length,hair texture,cap size and even the type of lace. French lace is popular and hot selling now,it is durable, thicker and is recommended for new wearer. Swiss lace is delicate, thinner,slightly more natural looking, and usually for the most experienced user.
So you needn't hair transplant any more when you have human hair full lace front wig.don't you think so?
there is no information