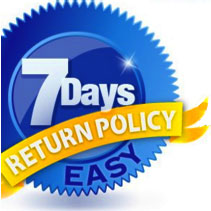 ---Refunds/Exchanges/repair service
We know it is difficult to purchase a wig over the internet so we provide the most customer-friendly return/exchange policy of any internet wig shop. Restocking fees are a pain, but they are part and parcel of buying a hairpiece on the internet.
If you have a problem or the hair color or texture is not what you ordered after receiving the wig unit, You can exchange the wig in one month after you get the wig and you can send back to us and bearing the return shipping charges. But before you return back, must be ensure the wig in the original condition as it was sent to you.
If the wig has been altered in any way, then Please read the details below and call us if you have any questions.
Returning your wig:
All returns must have all of the original packaging, including brand box and tags must be attached - and the wig must be in like-new condition. We can't accept return wigs that have even been worn, much less washed, cut, or perfumed!
Sorry, we can't accept returns of items that are marked "close-out" or were purchased in Wigs On Sale. That's the trade-off for getting such a great price!We only can accept returning package from postal office,such as USPS,EMS or postal mail.
A returned item must be sent back within 7 days after you receive it. We need any returned merchandise back in our possession within 21 days from date of shipment. After all, if you know you don't want it, you need to get it back to us in a timely manner. Please be sure and insure your return package and include a note with your name (order number, if you have it) and a brief explanation of what you would like to do.
Once we receive your exchange/return item we'll inspect the wig. Then we'll promptly execute your instructions for exchange or refund. The exchange piece usually ships 4-5 days after we receive your package.the repaired wig may takes one month normally,because it is more difficult and takes more time than make a new wig.
HAIRPIECES THAT ARE RETURNED WITHOUT COMPLYING WITH THE BELOW GUIDELINES ARE SUBJECT TO INCREASED RESTOCKING FEES OR RETURN WITHOUT REFUND.
Always The Guaranteed Best Price

Returns:
Please contact sales for returning address,it will be more convenienct if ship by EMS.
Buyer afford shipping cost sending back.
Refused for Delivery will be charged full custom duty,so please don't write value to much on the package,we suggest write less than $20 on the package.
Exchanges:
If you take advantage of getting a color ring first, before you order a wig we'll give you color insurance for one color exchange, absolutely free. Just return your wig promptly in original packaging with tags attached, include a note telling us what color you want in exchange and we'll ship you an alternate color choice, free! Since we can only provide one exchange per item, please work to Get Color Right.
Note: Color insurance applies to the style that is purchased. If you are exchanging for another style, or another brand, then our restocking fee will apply to your exchange.
If an exchange is needed immediately, before we receive your returned item, we can accommodate you, but we will need to set up a new order and receive payment. Once the return item is received and inspected we'll give credit back by PayPal.
Refunds:
If you return a hairpiece in like-new condition with all original packaging, and you can't find another item to please you, we will be glad to refund the balance to you.
Please understand that we can only provide a refund for a single item. If you are returning multiple items we will refund the amount of the most expensive single item and give you in-store credit on the balance.
We cannot do an exchange! This includes but is not limited to any of the following:
  ◆ DO Not Cut the Lace.
  ◆ DO NOT Rip or Tear the Lace
  ◆ DO NOT Put any kind of Chemicals on the Wig Unit
  ◆ DO NOT Wear the wig Unit
  ◆ DO NOT Put Glue or Tape on the Wig Unit
  ◆ DO NOT Put Products on the Wig Unit
  ◆ DO NOT Wash or Condition the Wig Unit
  ◆ DO NOT Dye the Wig Unit.do not change texture.
  ◆ DO NOT Perm or Put Relaxer on the Wig Unit
  ◆ DO NOT Style or Cut the Hair of the Wig Unit
  ◆ DO NOT Destroy or Lose any of the Original Packaging
  ◆ DO NOT Try to Correct the Problem Yourself Prior to Calling Us
Please write "10$" value and " sample of synthetic hair wigs" on courier sheet in order to avoid customs tax (if high value , we can not accept return ),We only can accept returning package from postal office,such as USPS,EMS or postal mail.
THIS IS OUR RETURNING ADDRESS FOR EXCHANGE OR RETURNING BELOW:
We only can accept returning package from postal office,such as USPS,EMS or postal mail.Please don't write value more than $20 for easily passing our custom and tax free: