Quality Control System
CopyFrom:eclacewigs Author:Vincent DateTime:2013-03-19 Hits:454
Therefore, we always put quality as the first consideration. Quality of hair products is even more important than quantity.---technicians and quality inspectors control quality before production,during production and before shipment.



1)We imported human hair directly, and we have many hair collections around China, this can guarantee our Indian,Malaysian,Mongolian,Brazilian and Chinese human hair are 100% pure, not any impurity.
We have our own skilled hand tied workers to ensure the top craftmanship and fast production.
2)Eclacewigs Corp will ask you questions or ask for your confirmation. If eclacewigs Corp can't understand the order forms completely or there is any discrepancy in order form and on the template. To make the exact unit BUYER wants, we will ask you question however smaller the question is.
We have special hair processing methodand producing line, which can be sure our hair are in the best conditions when they are tied in the wigs.
After being translated, the orders forms will be checked to see whether order forms have been translated properly.
After every stages of making (such as making the base, dying the hair, curling the hair and knots.There will be an inspection for quality.
3)Before shipment:
Eclacewigs Corp will inspect the hair replacement completely. The units with any little problem will not be let out of our factory.Before packing, the wigs need to be inspected three times, inspecting hand tie craftmanship, coloring, lace materials, wig accessories and textue, to check if they are all according to the customer's requests.
All products have to pass strict inspection before they go out.
We committed ourselves to quality improvement and control.
We believe that the quality is the soul of an enterprise.
1.two technicians and two quality inspectors.
2.we inspect goods in.
3.we control the quality during production.
4.we check quality after completion and before shipment.
No one can match us so far as quality is concerned.
5.we ensure all products sent out are qualified.
this is our quality control system: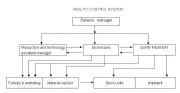 there is no information