What Is a Lace Front Wig?
CopyFrom: Author:S Yuan DateTime:2013-06-29 Hits:209
What Is a Lace Front Wig?
A lace front wig can creat very natural hairline and top of the wig which can fit your own hair,and it is freestyle at front area where is lace base. because hair strands is hand tied on the lace one by one,the hair sprouting out of the lace base just like the hair grows out of your own scalp. the rest of the wig is constructed by machine hair wefts or hand tied wefts.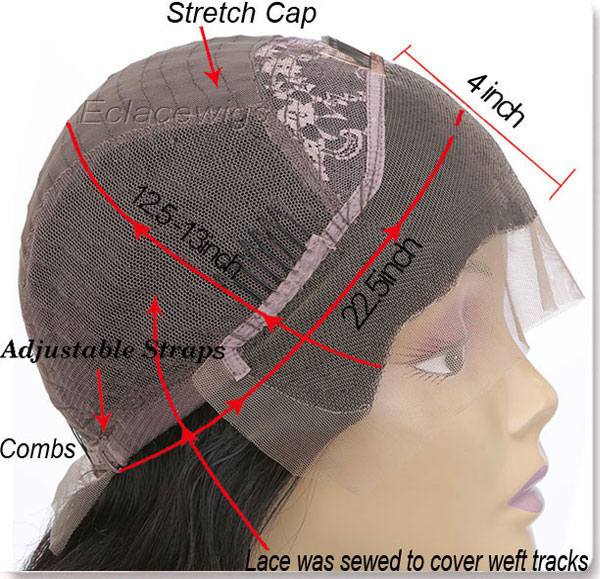 Virtues of Lace Front Wig:
The major pro of lace front wig is that it is threaded with a mix of threading and hair along the perimeter of the wig to ensure that the drastic difference between your skin and the beginning of the wig is not apparent. Lace front wigs mimic exactly how your natural hairline and forehead line up, making it extremely difficult to detectl that you are even wearing a wig.human hair lace front wig is as natural as full lace wig,but it is very cheap.
Defects of Lace Front Wig:
The major con of a lace front wig is that over time, the wig may start to slip. This is a gradual problem and can easily be remedied by your lace front wig technician. An additional con of lace front wig is the fact that it is a wig. This means that it may cause your scalp to itch, and when it's hot outside, your head will feel that much hotter.the back of the wig is made with wefts,so their is gap between wefts,it will show your saclp sometimes and density won't look so full as full lace wig.
Lace Front Wig Application:
One of the pros of wearing a lace front wig is that when you find someone who knows how to do the application properly, it will last up to a year, according to eclacewigs.com. You can apply it yourself, though this isn't recommended if you desire the best results in terms of lasting application.
In this instance, the pro is also the con in that you must take the time to find a hair-care professional who knows the best way to properly apply a lace front wig.
Front Lace Wigs Maintenance:
The best way to maintain lace front wig is similar to how you maintain your own hair, minus the cuts and trims. To ensure the maximum longevity and quality of your lace front wig, brush it nightly. Apply a moose or moisturizer every other night to preserve shine and body. Wrap the hair of the wig in a circular motion around the scalp until it is one large spiral. Wear a sleep cap (satin is preferable) to keep the hair in place until you brush it down in the morning.
One of the cons of a lace front wig is that you must remove it to wash it. it will be much better if wash and condition it on a mannequin head to ensure that the shape holds well.
there is no information