What We Must Take Notice When Apply Lace Front Wig with Babyhair?
CopyFrom: Author:S Yuan DateTime:2013-07-05 Hits:215
You can see ladies wearing front lace wigs everywhere.Why their are so many women wearing front lace wigs now?because their natural hairline,babyhair,bangs and you can part anywhere you like.the most important is their cheap prices. all these aspects made a lace front wig very attractive and become more and more loved by fashion women all over the world.lace front wig is a wonderful opt to hair wefts. Perfect both for bad hair days and providing many style versatility,front lace wigs can greatly expand styling options. Perhaps best of all, the natural looking and babyhair they are known for can make a lace front wig is difficult to detect if not impossible by all but even the most discriminating eyes.
These are insturction for applying your lace front wig with babyhair: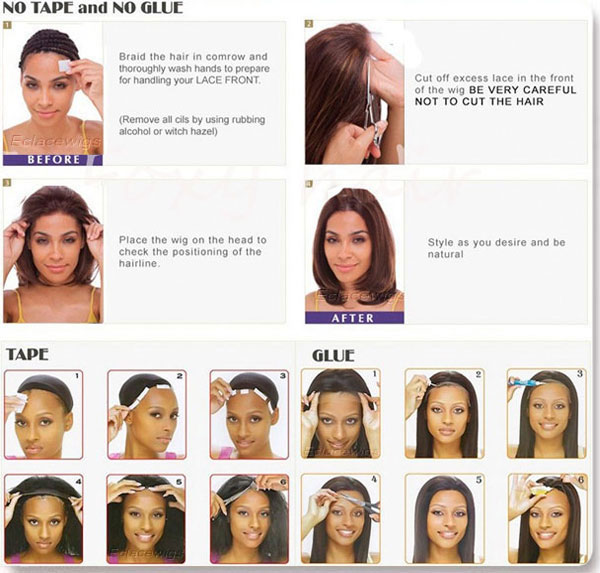 Ensure that your lace front wig is installed properly. You can do this yourself by making sure your natural hair is prepared by braiding flat against the head and secured with a stocking cap or other material before following the installation directions to the letter. Or, make an appointment with a wig fitter or hair stylist who has expertise in installing front lace wigs.
Gently clean the face from the hairline to the sides. Pat the face dry with a clean cotton cloth. Lightly apply moisturizer to the hairline and both sides.
Separate the main wig hair from the baby hair with a head band or hair clips. Use your fingers to gently arrange the delicate baby hair in a manner that complements the hairline and flatters your face. Use the baby brush to lightly brush over the baby hair to create a soft effect. Use the baby comb to taper the edges of the baby hair.
Preserve the look of your baby hair gently scrub it along the contours of your wig slightly separated from the rest of the lace front wig. Prepare the remaining wig hair for bed the way you normally do before. Lay the scarf firmly and categorically against your forehead to cover the baby hair. The ends of the scarf should be tied into a knot.
there is no information