How to Get Correct Measurements of Your Full Lace Front Wig?
CopyFrom: Author:Sheng Y DateTime:2013-08-12 Hits:201
Most ladies all over the world like to wear full lace wig or lace front wig,they want to obtain the most possible natural looking appearance.A good quality full lace wig or lace front wig makes many difference in how good the wig looks on the wearer's head.Get the right size for your full lace wig and lace front wig is also as important to let it correctly fitted on head, since you do not want to go for something that everyone can know it is fake.
If you can't offer a correct measurements when you purchase a full lace wig or lace front wig online,you'll have to spend much money on sending it to seller to exchange a new suitable wig.
Here we tell you how to get correct measurements of your head.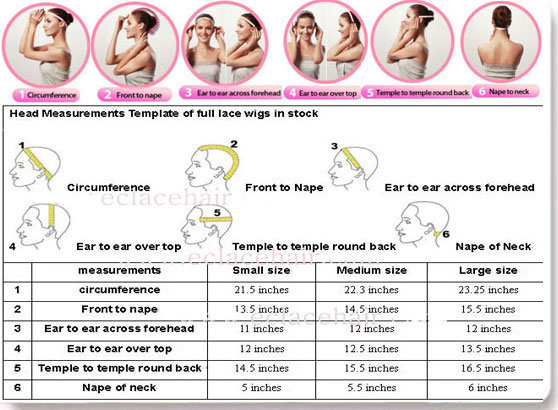 Use a tape measure to measure your head . The tape measure should follow your hairline in a round position from your head to your neck for the first measurement. The second measurement should be from your forehead all the way to the nape of your neck. This should be done perfectly straight. The third measurement should be from ear to ear across your front hairline. After this, measure ear to ear over the top of our head. Take a temple-to-temple measurement, followed by the measurement of your back hairline.
Please view our measurements standard from size chart column on left of page for your reference.
Write down your measurements and make sure that they are correct. Confirm them again by taking the measurements one more time.
Take the full lace wig or lace front wig and put it on a wig stand. Measure all the sides in the same fashion you have done for your head. Confirm the compatability of your measusurements and the wig's,so you can match both correctly.
We are selling human hair full lace wigs and front lace wigs in our store,you are warmly welcome to purcharse from our site directly.www.eclacewigs.com
there is no information