What's the Difference Between Full Lace Wig & Lace Front Wig!?
CopyFrom:www.eclacewigs.com Author:Vivian DateTime:2013-09-15 Hits:269
Originally,lace wigs were created mainly for cancer patients undergoing chemotherapy or other persons suffer from hair loss, ,However,because the wigs were made undetectable looking,lace wigs' reputation became more and more popular after entering into entertainment and Hollywood. Many well known Hollywood productions made their leading ladies wearing lace wigs, such as Jennifer Garner from the television series Alias, and Twilight star Kristen Stewart, whose lace wigs became the talk of the films.so lace wigs came into fashion and beauty fields and were welcomed by more and more ladies.
What is the Difference Between Lace Front Wig and Full Lace Wig?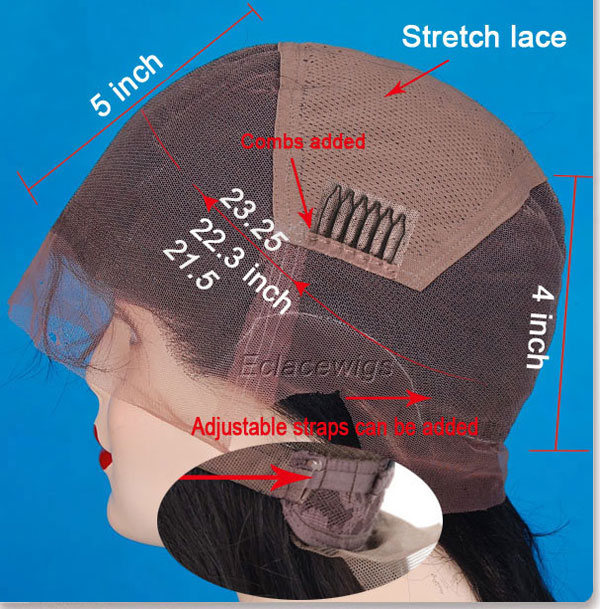 Top closures or lace front wig are a special type of hair products that hair strands are tied on a vetilated lace base. Lace front wig can be made with real human hair or synthetic hair which was tied to a lace base. Full lace wig's hair strands are tied on a base made entirely of french lace,swiss lace,stretch lace,mone lace and so on. while the more regular type of a lace front wig is the lace base only at the front hairline around 3 inches.The rest of the lace front wig is weaved with hair wefts or hair extensions.This allow the customer to part the hair anywhere they like at front and get natural hairline.The lace wigs makers designed various components of the lace wig to perfect match the appearance of different ethnicities.Different lace colors were available to match the complexion of the scalp. Lace wigs offer wearers an opportunity to duplicate their own hair or some other celebrities' hair.You can choose the hair density,hair length,hair color,hair texture and the type of lace. French lace is more durable, thicker and is recommended for new wearers. Swiss lace is delicate, slightly more natural looking, and usually for the most experienced users.
Lace front wig can be worn on head for up to three days, and they have a limited range of up do hairstyles.Depending on the adhesive you used, you can wear full lace wig for one to two weeks. However, wearing a lace wig more than two weeks may possibly damage your natural hairline. Lace front wig contain lace around the fore hairline, and the rest of the cap were weaved by wefts or hair extensions,their is not cap lace base at back area. Since the lace does not extend to the back, the buyers cannot style the wig into a bun or high ponytail. If a lace front wig is pulled into a ponytail it will show others that you are wearing a wig. However, full lace wig is manufactured with lace on the entire wig and you can part from any angle,anywhere regardless of the hairstyle. In addition to flexible hairstyles, a full lace wig allows you own hair to breathe, unlike a lace front wig.Full lace wig can be worn into a high ponytail as opposed to lace front wig.
The lace front wig is usually attached with the assistance of glue or tapes, which are applied to the front hairline area. Once the glue has dried, the front lace portion of the wig is affixed to the area where the glue has been applied on the hairline, creating a tight bond which keeps the lace front wig in place on the head. Lace front wig has baby hair at front hairline which is used to cover up any visible signs of lace on the forehead, the baby hair also helps to create a natural hairline. Once applied the lace front wig will usually stay bonded for up to a week.with correct maintenance, a lace front wig can last six months to one year. While full lace wig include a cap attached with thin lace,so it can last for more than two years if cared correctly. regular wigs consist of a net or lace wig cap with a some popular hairstyles and lots of hair texture options that lace wigs wearers can choose. Unless it's sewn into the person's hair. Compared to ordinary wigs, the constructing process for full lace wig involves carefully tying and knotting individual strands of hair creating an illusion that it is growing from the wearer's scalp.
We retail full lace wig,lace front wig,top closures,hair wefts on our site,guarantee high quality,better quality,100% human hair,tangle,shedding free!
there is no information