Most of persons know wigs are made of human hair or synthetic hair,but only few persons know factories make wigs with wool, feathers, animal hair materials. In order to disguise hair loss some people wear wigs.their are lots of persons wear wigs to make to get a new look or fashionable look,for example, . How can they do when some ladies have short hair and want to have a long hairstyle, the easy and great way is to wear long hair wigs.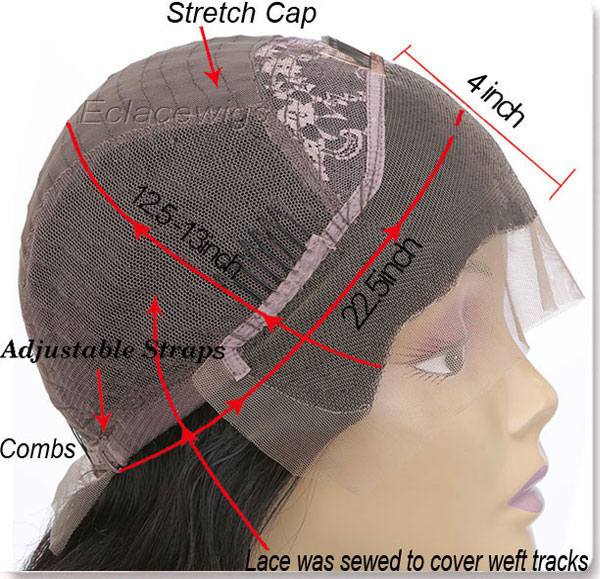 Among many types of wigs, lace wigs is the most expensive and natural looking type. Lace wigs are usually made with remy human hair.the hair of this kind of lace wigs is tied on the lace base.when attach it,we need to glue it on head. Once glue it on head properly, it won't be taken up easily for more than a week. And, you can wear it to bath, swim, and even do some other violent exercise and even sports. It looks like your own real hear. so, it is not strange that it is a little more expensive than other kinds of wigs.because real human hair is expensive and manual work that hooking hair on lace takes too much as well.
Most popular and welcomed lace wigs include Lace front wig, Full lace wig and glueless lace wigs.
What is lace front wig?
Lace front wig has french lace or swiss lace base at the front hairline area.and what about the rest of the wig cap area?it is constructed with machine hair wefts or hair extensions that need very small manual work,because they can be machine made.Then every strand of hair is hooked only on the lace base at front. This kind of wig is designed properly and much more cheaper than full lace wig. It contacts the skin of the head directly, so it looks very natural when you wear a lace front wig. other persons can't find you are wearing a wig.
What kind of persons are suitable to wear lace front wig?
All people are suitable to wear front lace wigs just they want and like to wear. Some celebrities and movie star often wear this type of lace wigs to show up before the camera. In addition, if your hair is scarce because of suffering from some disease or chemical treated, this kind of lace wigs is the great choice.
What the difference between lace front wig and full lace wig?
All hair strands on whole head of full lace wig are being tied on lace base , while for lace front wig, it is made with 2~3 inches lace base from the hairline and it is constructed with hair wefts or hair extensions for rest of the wig cap.
Now on the market, you can find the Swiss lace wigs, French lace wigs, monofilament lace wigs and stretch lace wigs. what are the differences between them? Swiss lace wigs are very thin, and French lace wigs are more durable. The breath ability for Monofilament lace wigs is perfect and hair can be tied on this kink of lace very thick,because the hole on lace is very tiny. As for stretch lace wigs, they can't wrap the skin closely. If you wear this kind of lace wig, the wig will be easily to be noticed,it is most used for glueless lace wigs.
We have huge quantity of full lace wigs,front lace wigs,top closures in stock which are hot selling on our site now,you can buy and pay by paypal directly and quickly,and you'll find you can get the units very quickly after payment.
We are sure to let you happy when you get the hair products bought from our site.