Where to Get Undetectable Full Lace Wig and Lace Front Wig?
CopyFrom: Author:Vincent Y DateTime:2013-10-28 Hits:556
Do you want to change a new outstanding looking recently?
then I advise lace wigs are the best and quick method,amony most types of wigs,lace wigs are the most natural type,they help persons greatly that suffer from hair loss.lace wigs has a lace base that hair strands are tied onto it by hands,lace wigs include full lace wig and lace front wig,when they were applied professionally,they are really can't be detected from natural real hair. Because good quality lace wigs are greatly welcomed by ladies who have thin hair or loss hair because of medical reasons
Lace wigs can looks very natural and outstanding.on the contrary,They can also look very cheesy and obviously fake.those bad wigs can show others that you are actually wearing a wig. Camouflage the artificial scalp under the wig hair can make it look like your own scalp. Blending the skin tone of the wig scalp and the hairline of lace wig will make the wig looks much more like your real hair.
In order to make the lace wig exactly looks like your natural hair,it's better to pay more attention to quality rather than price or style, your highest priority.The more expensive
human hair wig
or quality synthetic front lace wigs will look more natural than those discount cheap lace wigs.
You need to follow the steps to make your full lace wig or lace front wig looks as natural as possible: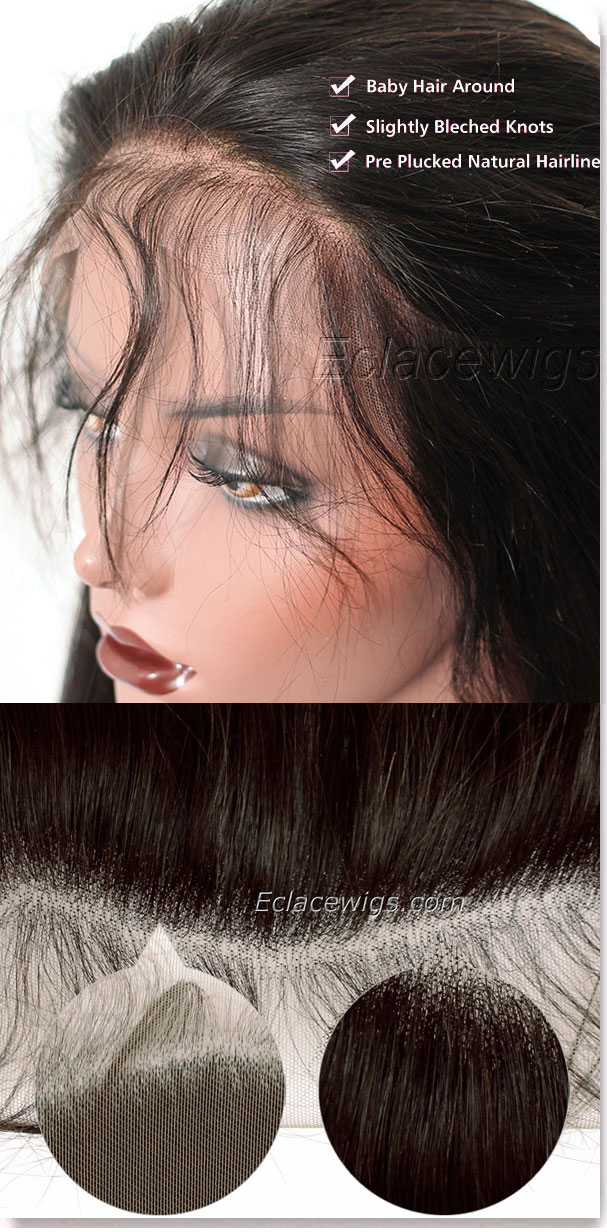 1.Choose the correct full lace wig or lace front wig.Select a good quality lace wig that the color and texture like your natural reall hair.Part the hair in the wig to get a natural look you like.Wig parts slightly to the sides will look more natural than middle parts.
Choose the lace color that can match your skin tone and scalp,so the lace will virtually undetectable exact like your scalp and aid your lace in the realistic look. You can also dye lace at home when it is not suitable,use a fabric dye close in tone to your skin,and not too dark.Dip a cotton swab into the dye and apply wherever the lace will be visible,such as around your hairline and at the part.
Trim off the excess lace offbefore you wear the full lace wig or front lace wig. Often, this is designed by the wig seller or manufacturer will do for you to ensure that the wig will be suitable. If not, just cut the excess off with sharp fabric scissors, leaving about a 1.25 inch strip of lace.
Add an anti-fray product designed for cloth to the edge of the lace if it starts to fray. You can find such products at craft and fabric stores or shops
2.Hide all of your own hair before you put on your full lace wig or lace front wig in order to get really natural appearance.Use hair gel to make hair slick and hair won't fly away.french braid it if your hair is very long, and put it under a wig cap. Medium length hair can be pushed into the wig cap alone. It is better to use bobby pins to secure the cap if you have very curly or frizzy hair.Short hair can simply be slicked back under the lace wig,simply pin your own hair and it is all against your skull.Long hair is most manageable if you fashion it into braids that hug your head. However hide your hair is to get a relatively smooth surface for you to apply the lace wig on easily.
Put on your full lace wig or lace front wig and visit a hairstylist to make sure that it is cut in a way that match your style perfectly.Adjust the full lace wig(lace front wig) to fit your head comfortably that you want and secure it with combs or clips.
3.Sharpen a white eyeliner pencil to a point. Lightly draw a white line on the parted area of the scalp with the white liner pencil. Make the line thin, and as close to the scalp as possible.
Shake and open the bottle of skin colored concealer. Dip a thin makeup brush into the makeup -- collecting a small amount of concealer on the tip of the brush. Lightly brush the white liner-covered part with a thin layer of skin colored concealer.
Wipe the makeup brush off with a paper towel. Dip the clean brush into a small amount of makeup powder that is a little darker than your skin tone. Brush a thin layer of makeup powder over the part in order to seal the concealer.
4.Use a scarf or a headband. Persons often use hair accessories mean their hair is natural.
5.Try baby powder.If the wig is too shiny,lightly dust it with baby powder and then brush it to let your wig hair looks more darker and natural.
Use a wide tooth comb and a vent brush for styling your full lace wig(lace front wig),since both of these will reduce the pull on the hair.Go slow when removing tangles to protect your wig.combing out any excess makeup or powder that may have gotten into the hair. Gently comb your wig out.
6.Wash your lace wig with gentle shampoo designed for color-treated hair, followed by a professional instruction.A shampoo or conditioner that offers better protection is essential,hair care is most important for getting a natural looking appearance when you plan to wear a full lace wig or lace front wig.
We wholesale full lace wigs and front lace wigs on our site eclacewigs.com,tangle,shedding free,last long.our hair products will offer you comfortable and real natural looking.