How to Care Your Natural Hair When Wear a Full Lace Wig or Lace Front Wig?
CopyFrom: Author:Vivian DateTime:2013-12-01 Hits:266
Their are lots of women like to change hair styles every one or two months,lace wigs are the best choice for them,a lace wig not only can creat new natural looking immediately,it can create many fashionable styles.it can help conceal hair loss caused by diseases or chemical treatments.No matter why a women choose a lace wig,do not forget to care real hair on head.Forget to properly maintain the health of real hair when wear lace wigs can actually lead to hair loss or damage natural hair.
The most popular used and hot selling lace wig type is full lace wig and lace front wig.here is some instructions of how to care your natural hair when wear lace wigs:
1.Choose wigs with lace base that can let your own hair and scalp breathe.don't choose lace wigs constructed with cotton and nylon lace caps,because they can hinder new hair growth and damage your hairline.Whenever possible use gel wig liners to protect your hairline and skin.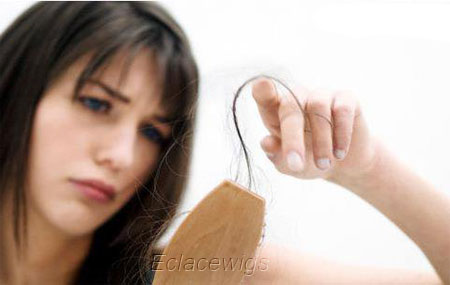 2.Shampoo and maintain your real hair regularly.Wear a full lace wig or lace front wig does not mean you can forget your usual hair care routine.After washing and caring your hair,it is better to let it air dry completely before wearing the lace wig. attaching the lace wig on head over wet or damp hair will create a breeding ground for germs and fungus.so your scalp or natural hair will be damaged by them.
3.Have your hair professionally trimmed on a regular basis.Trimming your hair can remove split ends and damaged hair follicles,which will help keep your hair healthy.In addition to keeping your hair healthy by removing damaged hair, caring hair on a regular basis will lead to faster hair growth as well.
4.Wrap long hair around your head under the lace wig or braid it. Never bunching your hair up or under a full lace wig or lace front wig or a cap.Having your hair balled or folded under a lace wig could cause severe breakage.Keeping your hair braided or wrapped up neatly will help keep your hair healthy and,as an added effect,will keep your lace wig even and in place.
We make thousands of human hair wigs each month- full lace wigs,lace front wig(front lace wigs),indian and brazilian lace top closures,we sell on our site,we welcome buyers from all over the world to choose the product you need,we offer varied styles and cap size.many different lengths,colors for buyers to choose.
there is no information