Their are many types of human hair lace wigs,the common and welcomed types are lace front wig and full lace wig,they are known as lace cap wigs,they are made with Indian or Chinese human hair that have been carefully attached to either a French or Swiss lace base cap. hair of full lace wig are all hand tied to lace base cap.lace front wig is constructed with hand tied hair strands at front and machine hair wefts at back,these two parts are combined together into one wig cap.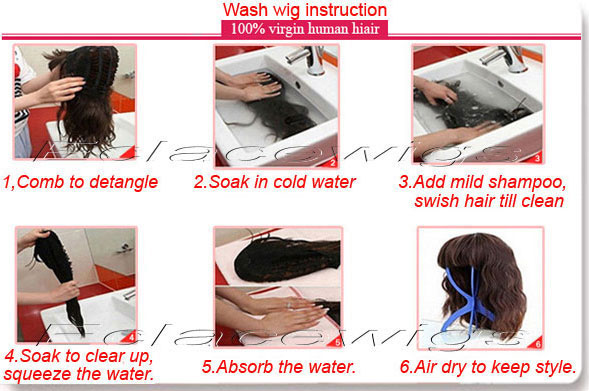 These human hair wigs are lighter and ventilated than regular wigs and they are made in a manner that offers a more natural appearance when being applied on head. they have not only natural hairline,their lace color can match your scalp and skin color,their knots are bleached normally.
One lace front wig can be fairly expensive to purchase ($60 to $200 at minimum in 2013,while a human hair full lace wig will charge you $100 to $500). With correct care, your human hair wigs can withstand more than 12 months of constant use.
Here is some suggestions of how to take care of human hair wigs:
1.Use the wide toothed comb to detangle the wig hair.Grasp the hair about midway from the root of lace cap and gently comb tangles from the ends of the lace wig hair first.Then continue to comb in longer sections.This will help to avoid breakage while detangling.You can detangle the wig like this while wearing a human hair full lace wig or a lace front wig.
2.Remove the human hair wigs while detangling the wig at the time you are wearing a human hair full lace wig or lace front wig,and place it on a wig stand. Gently use sprayer to wet the length of the hair with warm water(do not use hot water). If you do not have a sprayer,lean the wig stand back and allow water to stream down the length of the hair.Make sure that the hair is hanging down into the water.
3.Drop a small amount of shampoo into your hands.Rub your hands together to distribute the shampoo along your palms.Apply the shampoo to human hair wigs hair by stroking your hands along the length of the hair.Do not rub or apply any friction.Let the shampoo sit on the hair for a few minutes.Gently rinse the shampoo out using the same technique as in step above.
4.Repeat step abobe with conditioner.You can gently finger comb down the length of the hair to distribute conditioner and detangle.
5.After rinsing conditioner from the human hair wig,carefully squeeze out excess water with a hand towel.Do not briskly towel dry.Wrap the towel around the length of the hair and press to remove excess water.Don't twist or wring the lace wig hair. After removing as much water as possible,turn the human hair lace wig inside out and then the lace cap is visible,and place it on the wig stand,let the wig air dry.At this time, you can spray the inside of the wig with good quality knot sealer.this can help to extend the last time of the human hair lace wig by keeping the knots at the base from fraying.Please do not spray any knot sealer if you are not sure about it.bad knots sealer will make the lace wigs shed.
You needn't seal knots if your human hair lace wig was bought from our site eclacewigs.com,because our human hair wigs selling on the site and sealed knots,some knot sealer may dissolve the knots we sealed.