Instruction-How to Remove a Human Hair Full Lace or Lace Front Wig?
CopyFrom: Author:Vivian DateTime:2014-01-25 Hits:206
Their are so many ladies like to wear human hair lace wigs now,you can see lace wigs business become a very big industry,their are millions of shops and online stores selling lace wigs all over the world.most popular human hair lace wigs are full lace wig and lace front wig.A full lace wig and lace front wig can make the wearer's hair look thicker and finer,but it has to be removed off sometimes.If the full lace wig or lace front wig is just be pulled off directly,this will damage the wearer's scalp,skin or damage the lace wig itself.The lace wigs must have a solution applied to it that break down the adhesive used to apply the lace wig to the wearer's scalp.
This is some of our instruction of how to remove a full lace wig or lace front wig:
1.Gently pull the full lace wig or lace front wig hair away from the area where you will apply the lace release solution.Spray the solution over the area,or just dip a cotton swab in the solution and rub the swab on the area.Use a small dropper to apply the alcohol if you like that over a commercial solution.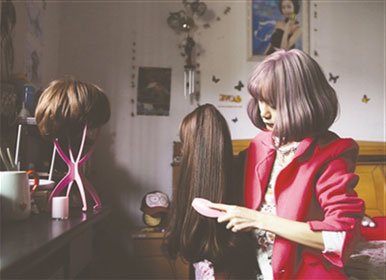 2.Wait at least 1~2 minutes for the solution to work.Run a finger around the head under the full lace wig or lace front wig,and then gently lift the full lace wig or lace front wig from the head.
3.Clean the scalp and skin where the lace was taped or glued,clean with soap and water.Spray a lace cleaner on the adhesive build up of the wig lace.The cleaner may take some minutes to work depending on the depth of the build up.
4.Wipe or brush off any residue,then shampoo and rinse the lace if necessary.
We wholesale human hair full lace wigs and frontlace wigs on our site eclacewigs.com.all 100 percent human hair wigs come in varied colors,size,textures,lengths for your choice.
there is no information