Hair Care and Washing for Human Hair Full Lace and Lace Front Wig
CopyFrom: Author: DateTime:2014-08-01 Hits:1007
Hair care condition for human hair wigs is similar as caring for a natural hair on head.Since wigs are available in many different styles,textures and density,it is important to use the proper hair care accessories to avoid pulling or breaking hair strands.Unlike synthetic wigs,you can set and style a human hair wig using a blow dryer,hot rollers and a flat iron if needed.
Most popular and hot selling type of human hair wigs is human hair lace wigs,human hair lace wigs include human hair full lace wig and human hair lace front wig.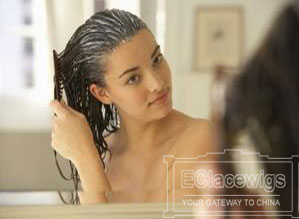 Hair Washing:
When you wear your human hair wig everyday,wash the wig once a week.If you own multiple wigs and alternative between them,make sure to wash wigs after 8-10 uses or every 7 to 10 days.Fill a basin with cold water and add one tablespoon of shampoo. Lightly comb the wig before washing. Place the wig in the water and move the wig around for one to two minutes. Do not rub shampoo directly into the wig or wig cap. Rinse wig in cold water and squeeze gently,it's better not to twist the wig,to remove excess water.Place the you human hair full lace wig or lace front wig on a wig stand to dry.Wash your scalp and hair at least once a week to prevent dirt and oil from building up on the wig cap base.
Hair Styling:
Apply anti-frizz cream or leave-in conditioner to the human hair wig when the hair is almost dry.To set the wig with rollers,separate the hair into four sections.Squeeze excess water from each section,if necessary. Use a wide-tooth comb or your fingertips to untangle hair strands.Use hot or Velcro rollers to set hair. Follow instructions on roller packaging for best results.
To style hair,use a wide-tooth comb or your fingertips to gently comb out any tangles. Use a blow dryer or flat iron to get the look you want. Only use a blow dryer or flatiron on human hair wigs, not synthetic wigs. Apply gels,mousse or other styling products to your human hair wig to maintain style.

Hair Brushing:
For long,curly human hair wigs,use your fingertips or wig comb to brush and style.This helps avoid hair loss and encourage the curl. Use your fingertips or wig comb to brush out long,straight-haired wigs to prevent frizzing and hair breakage. For shorter wig styles, you can use a wig brush or wig comb.Comb hair gently to avoid hair from falling.
Wig Storage:
Store your human hair wigs in a cool, dry space when not in use.Use a wig stand or wig head to keep the wig cap from stretching. Use a hair net to keep dust and debris off the wig.If traveling, place wig in a protective bag or box to prevent folding, stretching or loss of hair.human hair wigs are more expensive products most of which were made carefully by hands,so it is worthy of spending a little time to care.