How to maintain different lace front wigs?
CopyFrom: Author: DateTime:2012-09-16 Hits:139
Tip 1: Washing and conditioning is a necessary, as well as the most important aspect of front lace wigs maintenance. Wash your lace wig unit occasionally, especially after detaching it. Ensure that you use the right products – the shampoos and conditioners created for wigs alone.
Tip 2:Moisturize your curly lace front unit regularly with high quality wig moisturizers. Also, add a little amount of glycerin and water as well. When brushing the hair after the conditioning process, use a loop brush. Moisturizing the hair of your special wig should be a daily practice – this would substantially help in keeping it de-frizzed at all times. Good quality hair moisturizers would also work to enhance the luster of your lace front wig's hair. Generally, the most essential thing you need to do when it comes to wavy/curly lace front wigs maintenance is to prevent them from tangling.
Tip 3:Reseal the knots inside the lace front wig after each wash. Lace wigs knots sealer should be used. Knot sealer shouldn't be applied directly to the lace part of the wig.
Tip 4:Use a wig stand when removing the wig to store it overnight. A wig stand helps retain the bob style shape of the lace front wig. Straight hair lace front wigs will tangle less often.
Tip 5:Limit the amount of heat used to style the bob and straight lace front wig. Rollers and hair pins can be used to achieve different styles.
Tip 6:Braid straight hair up at night when sleeping in the full lace wig. A scarf or hair bonnet should be used while sleeping with a bob style and straight hairstyle. The scarf or bonnet should be satin material.
Tip 7:Use a light moisturizer on the wig to help keep a shiny yaki and kinky texture. Heavy creams will weigh down the wig causing loss of shape and damage.
Tip 8:Comb through your wig if it is a straight style using a wide-toothed comb. Do not comb through curly or wavy wigs because it will cause frizzing. Style your wig as desired. If using a flat iron or curling iron, use the lowest heat setting you can to prevent damage, especially on lighter-colored wigs. Moisturize your cheap lace front wig daily with a spritz of water when not in use. Store your wig either on a wig stand or in a bag with a hairnet covering it.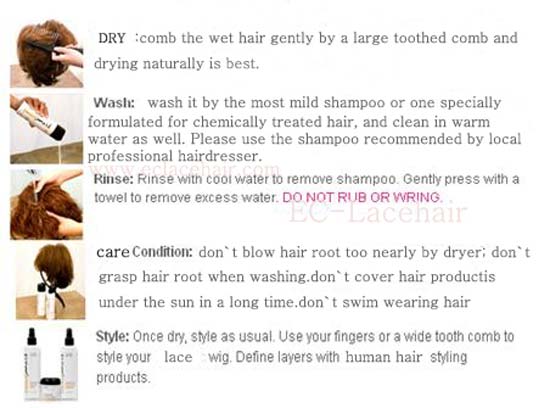 there is no information