Cleanliness:
Keep hair clean. We recommend that the hair and rinse with warm or cold water for at least three or four times a week. Wash the hair after swimming, spa, sports and so on ... When the dirt accumulation, including sweating, hair tangles!
Shampoo / air conditioning:
Before washing hair,spray a few drops of olive oil on hair, 100% boar bristle brush, brush a time hair bristles. 50/50 water-diluted shampoo into a spray bottle. Spray shampoo into the scalp. Press and the sliding hair shampoo with a sponge or with the palm of your hand, squeeze the shampoo at both ends, both ends of a fundamental. Alternately use a moisturizing shampoo and shampoo, color. Do not rub or irritated hair, or will lead to entanglement. Leaned forward face of the shower, with warm (not hot) water rinse. Alternate deep penetration of moisture and hair care focus. For 3-5 minutes. Avoid the use of air conditioning near the point of attachment for the adhesive premature separation.
We strongly recommend that you press firmly attached parts. Towel tightly around the perimeter of the hair increases and imprinting hair. Firmly press at any given time, especially in your hair, add fresh graft. Which will remain firmly attached to the hair of the scalp area.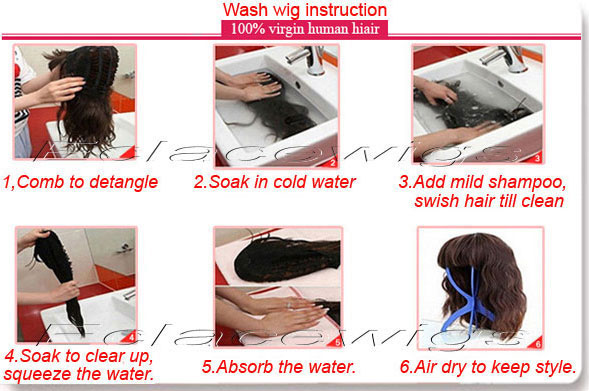 Brushing:
Brush your hair only when it is completely wet or completely dry. Brushing should be careful to avoid root tension. To ensure that only brush the hair from bottom to top. Do not try to attachments, unless a very soft 100% boar bristle brush to brush. Extreme tugging at his hair loss caused by.
Combing:
Please ensure to comb that every time you wash and daily hair comb. When the comb through the hair from both ends and working little by little on the scalp. With the other hand to hold the base to prevent it from falling off or causing root tension. We recommend anti-static spin-tooth comb. The Biosilk the end portion. Avoid using shine root partition, because it may be too early out of your hair grafting.
Drying:
Be careful not to lift hair addition when round brushing and dry your hair. Brush gently toward the face. Do not brush or tug abruptly when drying the hair. Press firmly around perimeter after blow drying.
To sleep:
A couple of big braids in your hair when going to bed, swimming or sports. You have to sort out your hair braided. Do not sleep in wet hair, your hair must be completely dry before going to bed, sleep in wet hair increases will lead to very unkempt hair.
Wavy hair / curly hair:
Wavy or curly hair, we recommend wetyour hair every morning, the water and protein vacation Detangler.DO not trying to achieve of curls using any alcoholic products (including mousse, styling gel, etc.).
Dry Ends:
To keep hair from dryness, use olive oil two to three times a week before shampooing. Overnight olive oil left on the hair on the end portion, is not only very effective. Remember hair increase hair without the interests of their own natural scalp oils, olive oil will help the oil in the hair shaft, to replace those necessary.
Chlorine and salt water:
Chlorine and salt water already know for Hair Additions damage hair. As far as I know, the chlorinated pool, jacuzzi, sauna and seawater hair damage may cause irreparable, experts can not be responsible for the purchase and / or increased wear my hair, if I decided to ignore this warning. I have been told not to expose my hair to add chloride and / or salt water, do so at my own risk.
They seem natural?
Sure! This is incredible, you will be surprised! Wind can blow someone might touch your hair, you can make love ...nobody can detect your hair addition.
Slippage:
During the life of the hairstyle of your wig, your hair increase may slip. In order to avoid this situation, the pressure on companies constantly applied on the site of attachment, and in particular is in the bath. This will help keep firmly attached to the scalp area annex. Slipped your hair increase or enhance the case, you can successfully re-connected with a small amount of the "retouch glue" buy your hair increase Experts, wait for it to treat four minutes, then press firmly. You can also call your professional retouching appointment.
All of the following may lead to premature and excessive hair loss:
Excessive combing or brushing will ultimately break off hair and cause premature thinning of your wig.
Left incorrected, excessive matting and tangling that is then removed forcefully will tighten the matted hair and tear out the hair.
Friction:
From the pillow or too radical shampoo, broken hair, thin, tear out hair.
Matting:
Every morning, tilt your head forward, gently brush your hair with a soft brush, start at the ends of the hair and work, the root zone. Please see the attached sheet to avoid extinction entanglement.
Use of chemicals:
It would be best not to use chemotherapy on your hair. You must only seek of your hair expert advice. The chemically treated method may do irreparable damage to yourself and your hair.
Shedding:
Some hair come out of knots more easily than others, Curly hair and long hair usually hair loss to increase more rapidly than a short hair. The shedding of hair is considered very normal. Avoid hair loss, hair replacement, see the attached sheet.
Remove:
We recommend that you increase your hair experts to carry out the removal. Trying to remove the hair addition yourself may damage hair.
Maintenance:
Arrangements for re-installation and removal service appointment every 3-5 weeks.ask specialist how long the appointment will take so you can schedule appointments. Buy add new hair every 3-4 months.
Question:
We recommend that you keep close contact with your Hair Addition Specialist, therefore, if the increase in your hair problems at any time, you can get professional advice immediately.
Very rarey is a hair loss, hair replacement from the manufacturer,A few shedding hair left on the original base hand tying are to be expected.But there are a number of actions that can cause excessive hair loss after delivery of your Hair Replacement.
Over perm / wrong perming method:
This will damage the integrity of the hair, especially light-colored hair replacement, and will lead to accelerated hair breakage and thinning.
The air conditioning in the rest of the root partition:
May produce significant, sustained irreversible hair loss is the biggest single factor. The air conditioning unit will eventually be absorbed into the base and around the root system allows to prevent from the pivot 360 degrees, to allow the root system of your hair replacement alopecia. Conditioning must be completely washed away, in order to avoid damage to the root system. Carefully read the care instructions to learn the correct application and removal of air conditioning.
Do not overuse / OVER applying any hair care products in the hair replacement. When using this product, it's designed to get the best results. Remember, more is not necessarily better!
Ionix unique low PH value of hair care products specially formulated, constantly smooth, seal the cuticle, they always open human hair. There is no other line of hair care products has a unique design to help reduce rough combing, mats or entangled hair alternatives. The solvent the REMOVER not stay in your head for 5-7 minutes, with a warm towel to help eliminate adhesive. Very mild makeup remover. The head should be long, if you leave, you will remove your hair. Please call if you need help.
All of the following may lead to premature and excessive Extinction entangled: Friction:
General around the neck line of full wig, or in a permanent hair replacement. Caused by friction on the pillow at night. Constant friction damage the hair, and open the cuticle.
Permamnet wave solution:Especially alkaline perm, open the cuticle.
Over conditioning:
Although you may think to eliminate matting, too much conditioner can actually swell the hair causing the cuticle layer to remain open and then cause tangle.
Hot or cold water:
Be sure to use warm water to wash your hair extensions,lace closures or lace wigs.
Chlorinated water:
Whine in swimming pool. They are very alkaline, bleach the color, but also open the cuticle of the hair shaft to increase the possiblity of tangle.
Alcohol:
As for the hair spray. Most hairspray contains a large amount of alcohol, it is very dry and as time goes by, will open the cuticle, increased chance of entanglement.
Permanent hair color:
These products use peroxide as a penetrant, in fact, cause the cuticle to open and keep open / hair shaft swelling.
The following information is provided to help you learn about the seats, winding in human hair wigs and hair alternatives, and simple answer to minimize these problems. Fat substitute, in the vast majority of hand the hair knotted mesh foundation. This means that the same hair, from the junction of the two different directions. This also means that the stratum corneum will be in two different directions. These types of products have chemical "smoothing" or "sealed", (usually called decuticlization), in order to minimize tangling of the hair of the hair. Products have been implanted hair (all in the same direction) their wit's cuticle, but it would be easy to pave the way and entangled, you'll see in a moment.
If tangling from excessive friction occurs, comb it out immediately and gently with our rotating tooth comb, using a small amount of our Detangler or conditioner. Try using a silk or satin pillow case to avoid the friction of cotton pillowcases. If you must go swimming in chlorinated water, immediately rinse your hair when leaving the pool, then gently shampoo and condition with recommended products. For coloring and perming, tell your stylist to try using "Semi Permanent" colors that use little or no peroxide. Always use perms designed for processed hair and to always air oxidize instead of using the neutralizer. Avoid using too much conditioner, spray it onto your palms and fingertips first, then apply it to your hair keeping the conditioner away from the root and base area of your hair, and then wash the conditioner thoroughly.