Has your full lace wig a bit of wear and tear? Our factory offers a Lace wig repair service for human hair lace wigs purchased from our company(if your human hair lace wig was bought from other manufacturer may be considered however this will need to be approved by our sales before handling).
All our full lace wigs are guaranteed for a minimum of 6 months. If well looked after, your full lace wig or lace front wig should last up to a year,two years or more depending on the hair care condition.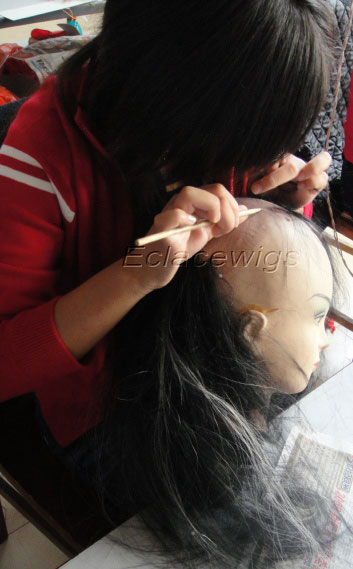 We specializes in creating hair replacement systems, but it also handles most types of repair. Whether your lace is frayed, hardened or ripped, we are able to replace it with new material in order to get you back to the point of using it comfortably. If you need us to add hair in order to attain more density, we are able to do so. We provide a convenient brochure that allows you to indicate the issues in need of attention. When your wig and your brochure arrive, we will thoroughly assess your hairpiece to determine what wig repair service is needed and what it will cost.
Our services include adding more hair to thinning areas on your lace wig, tears in the lace or addition of baby hair,bangs. Restoration services including lightly processing to bring back the original curl and deep conditioning.
Lace wigs must be free of any type of adhesive or tape residue before being sent in to us for repairs, any lace wig unit sent in such condition will be returned to the sender.
the value on the package must be less than 20 usd,otherwise we have to refuse to receive the package because our local high custom duty and custom clear difficuty.
Depending on the Severity of repairs needed, repairs can take up to 4 or 5 weeks.
All lace wig repairs must be paid for in full prior to any services being carried out.
Please contact to discuss the service, should you have a lace wig not purchased form eclacehair that you would like repaired. For all customers please fill in the contact form and be sure to include what repairs/services are needed in the package for your lace wig and please include your return shipping address. We will then contact you back to discuss your needs further.
Deal with your hair replacement system, it is important to do your best to keep it in great condition. Use the appropriate adhesive, so you will be correct, but equally important is accidentally deleted your system. Some wig is considered to be a one-off, especially those who need to complete the head bonding of ultra-thin base. In other cases, the perimeter adhesion to allow a longer period of time to be saved in the main base. However, a moment of inadvertent or accidental encounter something grab your hair may cause damage. Taking into account the cost of hair pieces, wigs maintenance service is worth exploring, in order to keep your expensive system a long time.
You will find that our factory is excellent for consultation purposes. We continually improve our skills in the industry, making annual trips to learn new techniques and materials. Our services often exceed those provided by expensive salons, and we are competitively priced when compared to other online hair system suppliers. Our commitment to our customers is important when you are in doubt about what wig repair service or product is needed.
It is highly recommended that if you don't have a spare that you consider obtaining one. Wig repair service can take as long as five weeks, making it a challenging time for those without a backup hair system. Contact eclacewig for suggestions when you need both repairs and spares.
For more service,please kindly visit www.eclacewigs.com