Front Lace Wigs Creat Beauty Like Beyonce!
CopyFrom: Author:Sheng Yuan DateTime:2013-04-03 Hits:98
Front lace wigs have become very popular,fashionable, I think due to the fact that famous celebrities such as Beyonce,Lady Gaga,Tyra Banks alwasys wear these kinds of human hair wigs. Lace top closures looks extremely natural because it is attached at the front hairline, which allows more styling options than traditional human hair wigs. The hair can be pulled back from the face, and still looks natural.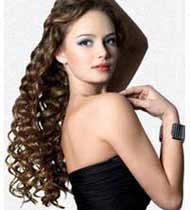 Wearing a lace front wig can give you ourstanding looking. The wigs that are similar to those worn by Beyonce are very high in quality, and provide a natural appearance. These types of front lace wigs have a fine lace mesh base, to which the hair has usually been hand-tied. The combination of the mesh base and the hand-tied hair lets the wig look natural regardless of how the hair is parted or styled. There are also varieties of front lace wigs that are a combination of hand-tied and machine-tied hair.
Front lace wigs are available in a variety of textures, colors and lengths and can match lots of hair styles, so you have plenty of options when choosing one that will give you the styling options you like. Front lace wigs made from indian Remy hair or what is called Yaki hair are good choices when trying to match Beyonce's look, because the texture and thickness is similar to natural relaxed African American hair. This can give a very natural look.
One of the most important things you can do to get that famous Beyonce look when wearing a lace front wig is to learn how to apply the wig correctly. This can take some practice, but once learned, will let you apply with the wig in a way that makes it difficult to distinguish from your natural hair. A lace front wig is applied with adhesive along with the front hairline.
Another way to look natural while wearing a lace front wig is to learn how to apply makeup to help blend the front hairline of the lace front wig. This is how Beyonce gets such a natural appearance. Using makeup strategically can add the final touch to getting outstanding looking that you desire.
We selling popular stock front lace wigs now that you can purchase online directly from our site.
there is no information