Where to find thick, ease styling, simple maintenance, and a long last natura lookingl hair? the best choice is to choose sew-in using hair wefts. There are three main types of hair wefts, which are usually available in synthetic or human: machine hair wefts, hand-tied hair wefts hair and thin skin hair wefts. For the most cost-efficient, yet real look,machine hair wefts is most common with human hair. This type of hair wefts also called hair weaving,can be processed to hair extensions, provides an easy wearing, natural looking and versatility for hairstyling.
1.Part and braid dry hair wefts, clean hair neatly in small, close cornrows (either circular or straight back, depending on preference and style).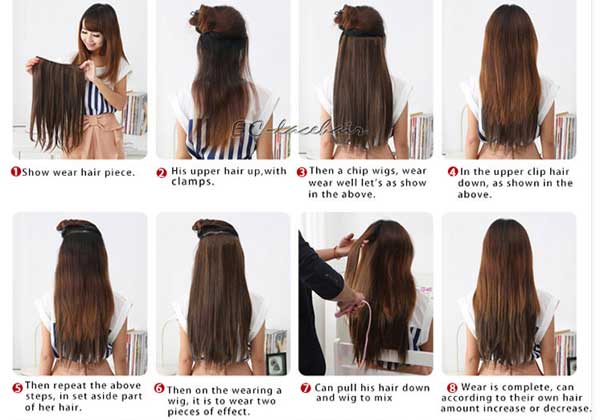 2.Liberally moisturize the scalp in between braids. This will help prevent your natural hair from drying out when extensions are applied.
3.Pin the ends of the braids down as flatly as possible to create a full base for sewing the weft (also called track) to your hair.
4.Thread a needle with a considerable amount of thread (that matches the shade of your hair color) and tie the knot securely at end.
5.Measure the hair wefts against the braid for the amount of width needed and cut. Begin measuring at the nape of the neck.
6.Place the hair wefts on top of the braid and anchor with the unused hand.
7.Put the needle through the braid and hair wefts and pull until secured.
8.Repeat the loop through the braid and hair wefts until entire row is complete and cut off any excess hair at the end of row.
9.Sew (cross stitch) the end of the hair wefts to avoid lifting, cut the thread and double knots to secure the end.
10.Continue until all braids have been attached with extensions and layered to desired thickness.
11.Arrange loose, natural hair to lay over visible hair wefts for closure.
12.Moisturize the hair wefts and spray lightly with gloss or sheen.
13Flat-iron natural hair straight and comb together to blend with the hair wefts.
14.Cut and layer hair extensions to desired length and fullness and curl hair with the curling iron