How Can Human Hair Lace Front Wig Looks Natural?
CopyFrom:www.eclacewigs.com Author:Sheng Yuan DateTime:2013-05-31 Hits:225
Women who wear human hair lace wigs want their wigs to look really natural. The hairline often can make or break that natural look,but their are some manfuacture can make very natural looking hairline.their are some other aspects such as bleaching knots,invisible knots,lace color,hair style,hair color can also affect natural looking.A lace front wig has a area of lace with hand tied hair near the front portion of the wig, and it often features fine, with short babyhair near the front hairline. When you purchase a new wig, the lace will extend down to your nose, so you must prepare the wig before it is ready to wear.
This artice will tell you how to make your wig more natural looking.
Cut the lace off the front of the wig up to the wig's hairline. Do not cut any hair at this point.
Place the full lace wig or lace front wig on your head, positioning the front of the wig in front of your own hairline. Adjust the wig's positioning until you are happy with it. If the hairline doesn't look right, you can trim hair and lace to make the wig match your natural hairline.Take the wig off your head once you are happy with the hairline.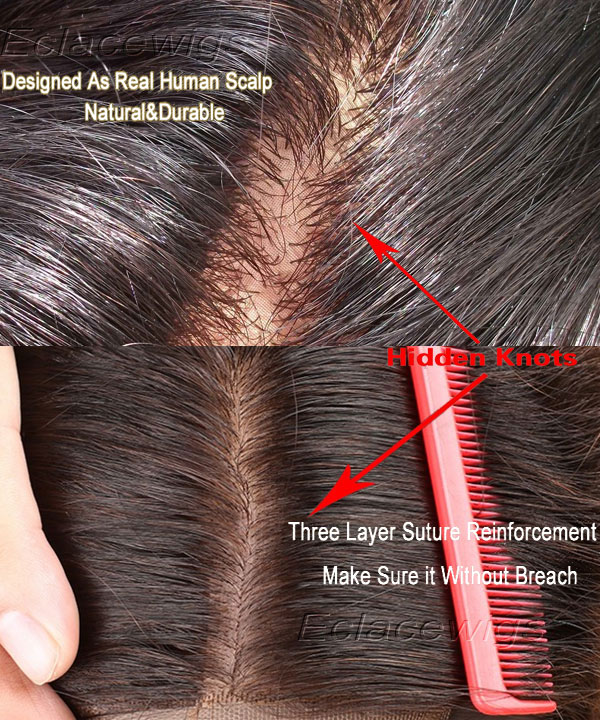 Wash your face and apply scalp protector to the skin in front of your hairline around your entire head. When the protector has dried,Apply liquid adhesive or just wig tape to your scalp,and please following the manufacturer's instructions as well.
Hold the full lace wig and lace front wig unit over your head and press firmly at your front hairline until the wig stays in place by itself. Apply the same pressure around the nape of your neck and the sides of your head until the wig is firmly in place.
Choose lace color that can match your skin color and bleached knots when you buy a new wig or you can dye lace yourself.
Notice:Bleaching knots let can't see knots clearly,only silk base triple reverse knots can hide knots,invisible knots and creat a perfect natural looking.
there is no information