How to Wash and Care Human Hair Full Lace Front Wigs Properly?
CopyFrom: Author:Vivian DateTime:2014-01-19 Hits:213
Human hair lace wigs are fashion accessories and hair replacements,they are getting more and more popular recent year,human hair wigs include regular wigs and human hair lace wigs,lace wigs include full lace wig and lace front wig. Real human hair lace wigs can be styled use heat or be colored,while synthetic hair wigs melt when heat is applied.Real human hair wigs are much more expensive than synthetic wigs,but they are also more natural looking and of a higher quality.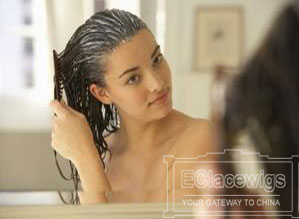 it is similar as to care your own hair to take care of human hair wigs. With proper care,the good quality human hair lace wigs will last for years.
Human hair wigs must be washed each 10 to 14 days,dirty wigs will not only damage wig hair,your natural hair will be damaged as well,here is instructions of how to wash human hair wigs.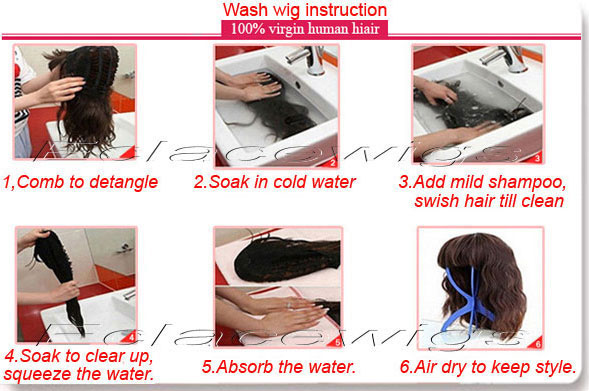 1.Comb out any tangles before washing. make sure you take the time to comb out any snarls, tangles. Use the appropriate brush or comb to trim your lace wigs.
2.Fill a washbasin with cool to luke-warm water.Add a small amount of shampoo.A cap full is enough.Place the human hair lace wig in the water and let it set for a few minutes.
3.Massage the shampoo into the lace wig Swish the human hair wig from side to side and up and down.Gently squeeze out the water and rinse with cool water.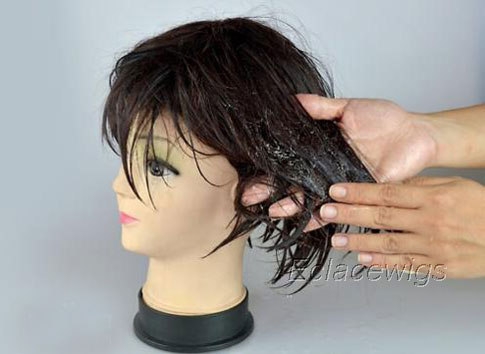 4.Refill the washbasin with cool water and add the conditioner.Again, little conditioner is needed.A cap full is enough.Place your human hair wig in the water and let it set for 5 minutes.Swish the wig from side to side and up and down.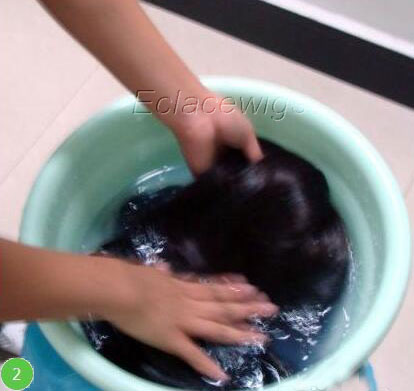 5.Rinse the human hair lace wig in cool water.Gently squeeze out the excess water. Hang the wig to dry or place it on a wig stand.keep in mind,always let human hair wigs air dry,If you use a hair dryer in some urgent occasions,place it on a low setting.You can style human hair wigs with rollers and setting lotion or use a curling iron once it dries.
there is no information