If you can apply yourself just right,the wigs made from human hair will show completely natural looks, as if the hair is growing out of your own scalp! We're going to go over the basic steps to tighten apply any wig look spectacular.lace wigs are now available for ladies who wants to update their look or give her own hair a break from styling and over-processing.if you are a fashionista that change look as often as clothes, it is an investment that will save you money over time, as these human hair wigs can last for years if you can apply them correctly each time.The lace wig is called "lace" because it is often made with a French- or Swiss-lace cap base that can be custom-fitted and then tighten attached to the head.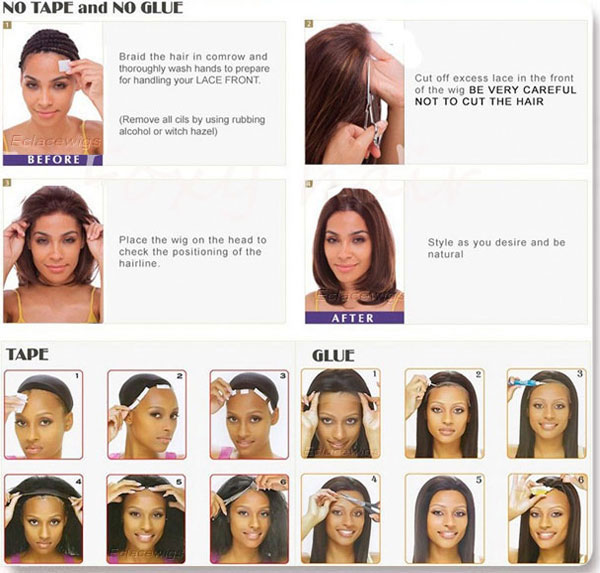 Things You'll Need:
Human hair wig;
Sharp scissors;
99% isopropyl alcohol;
Lace wig brushes or Q-tips;
Lace wig adhesive or tape;
Whether you buy a French- or Swiss-lace wig, cutting the lace will be a delicate process. Before you begin, place a wig cap (flesh-toned for a realistic look) over your hair and situate the wig. Next, mark where you want the wig to sit on your forehead with something erasable, like a liquid liner. Be careful to gather the hair into a bunch, with a clip or scrunchy so that no stray hairs will be accidentally cut in the process. Once you've secured all stray hairs, start cutting the excess lace around the wig to your liking. Beginners should leave at least a half inch of lace all the way around until they get used to shaping their lace. Pros generally cut extremely close to the lace wigs hairline for a more natural look.If you picked the right color lace for your skin type, the lace will disappear upon contact with your skin.
The adhesives won't work if your skin is too oily, so to apply the human hair wig properly, you must first prep the area around your hairline. Most any alcohol will do, but the best kind is medical grade (99 percent isopropyl). This will strip dirt and oils away so the glue or tape bonds better. You may find applying the alcohol with a Q-tip or cotton ball helps you control the amount you use, which will keep it from running in your eyes.Next, place a store bought scalp protector all around your head where the lace will be applied. The protector can be found in the accessories section of the lace wig website and should be bought, along with adhesives.
Applying the adhesive is the tricky part, and it may take a newbie quite a few messy tries to get it right. Try not to get frustrated and you will be rewarded with a fierce new hairstyle.The trick is to use an applicator that suits you, like a disposable glue brush or simple Q-tips or makeup applicators.There are two types of adhesive you can use.A. Glue Adhesive--These can vary greatly depending on what you need. For example, white, sweat-resistant glues may be perfect for women who exercise a lot, while other adhesives are better for individuals who like to swim. Be sure you buy a glue that is made for lace systems too, as some more permanent glues can damage them.Once you apply the glue to the desired areas, allow it to dry before placing the unit on your head. If you do not, the wig won't secure properly and will slide away from your forehead.B. Tape -Tape adhesives can be convenient and easier to use, and in a few cases, can be placed directly on the unit itself for easier application. Some of them come in rolls, but you may want to buy kits that have strips of the tape, for convenience's sake.Most women will put tape in the back and glue in the front to make application simpler. It is best to use both glue and tape in the back, however, as this will make the bond stronger--particularly important if you wish to wear your hair in a high style, like a ponytail or bun.Also, be advised that although some glues claim to work for weeks, most will only last a few days. You may have to keep testing adhesives until you locate the one that works best.
To apply the wig, carefully place it on your head, being sure to keep stray hairs out of the glue (pulling back the hair along the hairline with small clips may help) and press the lace into the glue.When applying the unit, try not to use your fingers to secure the lace. Fingers have oils in them that will whiten the adhesive once it dries, making an obvious line of demarcation around the hairline. The best thing to do is to lightly tap the unit down, then grab a rat-tail or other small comb and firmly press the wig down, all the way around, until you are satisfied you've gotten every area.Also, make sure none of the lace is lifting up when you are done. If one area is lifting, use a Q-tip to add an extra dot of glue and then try it one more time.
Once you have the lace wig on your head, it may be tempting to style and comb it. Don't. Unless stated otherwise, both tape and glue adhesives have to cure for about 24 to 48 hours before any excessive pulling on the hair can occur.If you follow the rules, the bond should stay strong.
Suggestions:
Find a quality human hair lace wig, as this can make or break your style. Remy,Brazilian or Asian hair may cost a bit more, but they will last longer and be easier to manage. On the other hand, cheaper synthetic or basic human hair wigs will shed and mat, needing to be tossed away after a short time.
Still, you may want to start with a less expensive lace wig as you learn how to apply them before graduating to something more costly lace wig.
Be sure to get lace that matches your skin tone: Wig lace can come in transparent, light brown, medium brown and dark brown for different skin types. If you are uncertain as to which to get, it's better go to the hair salon or wig shops around you,because they have experience and can see your skin in person.
If you tend to work out or sweat, you may notice that the bond loosens. If you don't pull on the lace wig, the bond will reset itself and your wig-attachment base should remain strong all the way.
Keep the lace wig clean and cared for and you will have something in your beauty arsenal that will last you for years.
It is always best to find a company that accepts credit cards or PayPal, as this will protect you in the event of fraud efficiently.