Most popular lace front wigs have skin toned mesh base at top combined with machine wefts for rest. It is this hand tied mesh base at hairline that allows your lace front wigs to create natural pre plucked hairline,free parting,it is difficult to find you are wearing a wig. Lace front wigs can quickly change your style and appearance,you needn't make a long-term commitment,without processing that can damage your own hair.To create natural appearance,we need to blend it into scalp, this requires proper application. Proper blending application will make the difference between a satisfied finish and upset.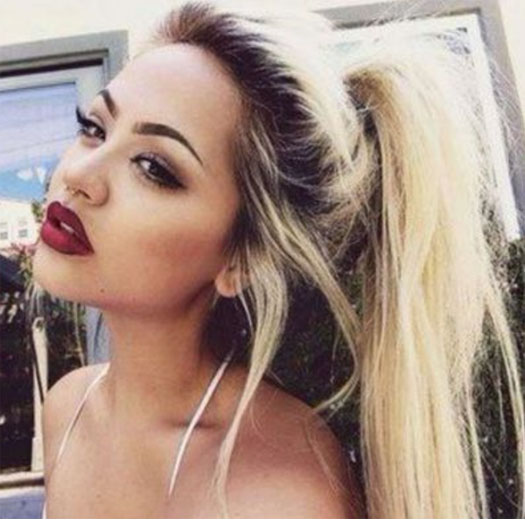 Things You'll Need:
Wide-tooth comb;
Brush;
Wig cap;
Wig head base;
Ponytail holders;
Scissors;
Cotton pad;
Alcohol;
Eyeliner;
Lace wig glue;ST
Comb your natural hair back and away from your face with a wide-tooth comb. Use a brush to tame any stray hair.
Use a wig cap to cover your natural hair at first.
Place the lace front wig onto a wig head.
Style the lace front wig into a ponytail hairstyle and secure with ponytail holders.
Remove the lace front wig from the wig head.
Cut the visible excess lace from the front of wig with a pair of scissors. Cut as close as possible to the hairline without actually cutting into the hairline,leave a bit of lace (1/2 ") for trim natural hairline!
Moisten a cotton pad with a small amount of alcohol. Wipe the cotton pad across your forehead from ear to ear. This will remove unwanted oil from your forehead for proper wig blending and application. Allow the alcohol to dry for two to three mins.
Place the lace front wig) on your head and maneuver until you find natural-looking placement for the hairline of the lace wig.
Outline the placement of the wig by creating several dots along the forehead with an eyeliner;
Remove the lace front wig and put it aside for a while.
Apply an even layer of lace wig glue across your forehead from ear to ear. It is important to stay within the skin eyeliner-dotted area;
Leave the glue to put on the forehead for at least 30 seconds, or until it is tacky;
Replace the

Press the hairline of the lace front wig into the glue using a wide-tooth comb;

After 20 to 30 mins, then remove the ponytail holders and style as you like.

Tips & Warnings:

If you do not have a wig cap or an eyeliner, a stocking cap and lip liner make suitable substitutes;
To avoid damage to your natural hair, be sure to keep the hair properly moisturized and conditioned when wear lace front wig on head.