The Difference Between Lace Front Wig and Lace Closure
CopyFrom: Author: DateTime:2015-11-18 Hits:20
Lace front wig and lace closure hair pieces feature lace around the hairline to give the wearer a more natural look than traditional wigs. When used correctly, the lace blends with the wearer's natural skin tone to give the illusion of hair growing from the scalp. Wearing a lace front wig or a lace closure offers versatility in hair styling options and free part.
Lace front wig:
Available in a range of styles, hair types and colors, Lace front wigs feature a thin, transparent piece of lace mesh around the hairline, hair wefts attached to the rest of the wig. Covering the entire head appeals to women looking to give their hair a break from daily manipulation, and the lace creates a realistic hairline, allowing the wearer part the hair for a natural look. The wearer must cut the lace to fit her own hairline before securing the wig around the perimeter of the head.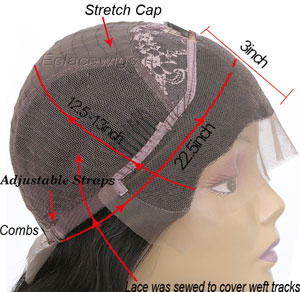 Lace Closure:
A lace closure covers only a portion of the head, and proves ideal for people who want to cover thinning hair or temporarily change their hairstyle. To cover thinning hair, the lace on the unit should blend with the wearer's skin tone before its glued or taped into position. Matching the lace closure with the wearer's hair type and color is the key to a natural, flattering appearance.
Options:
Lace front wigs and lace closures can be customized to fit an individual wearer's head or purchased as a stock piece via a website www.eclacewigs.com or brick-and-mortar beauty supply store. Ordering online allows for more style options.
The price of a synthetic hair lace front wig ranges from $25 factory price, while human hair units cost $70 and up.human hair lace closures start at $23, we offer free shipping by Epacket(paypal cooperate with postal office shipping service).depending on the hair type and length.
Considerations:
A trained hair stylist can demonstrate how to properly apply and maintain either unit, but following the manufacturer's application instructions will further improve the experience.
Users can wear most Lace front wigs or lace closures while participating in physical activities such as swimming, but we suggests testing different adhesives in advance to determine which provides the best hold. Glue application and friction between the unit and the wearer's natural hair may cause a thinning hairline sometimes.
there is no information