lace front wig with lace and net one front of wigs are full wigs (not toupees or falls) made with a strip of lace or netting attached at the hairline in order to create a natural look. When worn properly, it is difficult to find it is a wig because of natural looking saclp like lace and free part.New lace front wig with widow's peak pre pluck hairline are most popular now.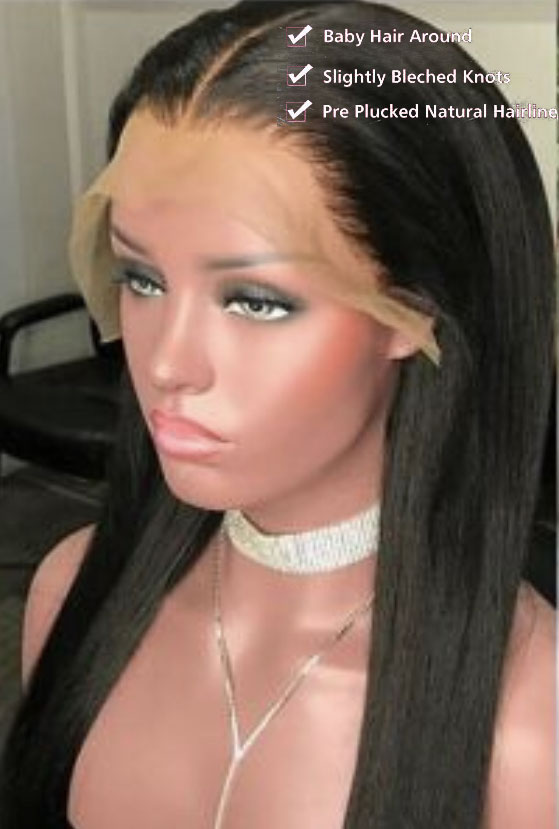 Things You'll Need:
Liquid adhesive;
Skull cap;
Hair pins;
Lace release/spirit gum remover/alcohol;
Small brush;
Styling products (anti frizz, hair spray, gel, etc.)
Styling tools (curling iron, straightening iron, blow dryer, curlers etc.);
Decorative styling accessories (clips, hair-bands, head-bands, ribbons etc.);
Wide paddle brush;
Wide tooth comb;
First, Clean the skin on your face, making sure to get into the hairline, using a non-oily soap. If you use moisturizer, be sure to stop about 1 inch away from your hairline. Wait a few moments to make sure your skin is completely dry at first.
Pull your hair away from from your face and secure it to your scalp with hair pins.
Put the wig cap on.
Grasp the lower back edge of the wig foundation with both hands. You might want to lean forward a bit, especially if the lace front wig is long. Slide it up over the forehead until the hairpiece's hair line is about an inch or two from where you want it to be. Then pull the piece down over the rest of your head!
Slide it back farther until it is in the correct position, just in front of your natural hairline, using both hands!
Trim the lace back matching its shape to the shape of your own hairline. Be careful not over trim, it is necessary to have a strip of lace to adhere to your skin!
Use pins the same color as the lace front wig and gently push them through the hair of the wig, through the base of the wig, through the skull cap and into the pin curls.
Lift the lace netting off the skin by gently folding it up and back. Apply a thin layer of adhesive around the perimeter of your hairline. Wait a few moments for the adhesive to become sticky. Unfold and press the lace netting into the line of glue on your head.
Tips & Warnings:
The best way to secure the hair before putting on the lace front wig skull cap is by creating pin curls. To do this, separate the hair into small sections (one-half inch or less) and roll it around your fingers then pin it flat to your scalp.
Some people might be allergic to the adhesive, remover and or styling products.make sure the styling products before beginning.