How to Moisturize Human Hair Wig
CopyFrom: Author: DateTime:2019-03-17 Hits:10126
It better to moisturize your human hair full lace or lace front wig after wearing for weeks,best material used for them is important,such as shampoo that for short-tempered hair.Evern real remy hairpieces can become brittle if they were not keep moisturized,and won't look beautiful.Most women wear a human hair wig and want it looks realistic just like their own hair. human hair lace front wigs and full lace wigs are most popular used. Lace mesh base are used to create wig cap,it can create natural looking pre-pluced hairline,natural looking knots and natural looking scalp. Lace front wig or full lace wig can be put on to the head using wig adhesive glue or tape,it does not get the benefit of their scalp oils, women must keep their human hair wig moisturized to let it keep looking natural.
Things Needed:
Sulfate-free shampoo that for short-tempered hair
Sulfate-free conditioner,
Leave-in conditioner.


1.You can shampoo and condition the human hair wig with sulfate-free products first. Just take off the wig and hold it in your hands while you wash and condition the wig.human hair wigs must be washed one time every 10 days or wearing for a week.
2.Let the wig air dry and then apply a leave-in conditioner to the human hair wig. Take a dime-sized amount of the leave-in conditioner and comb through the wig, using a wide-tooth comb to comb the wig gently.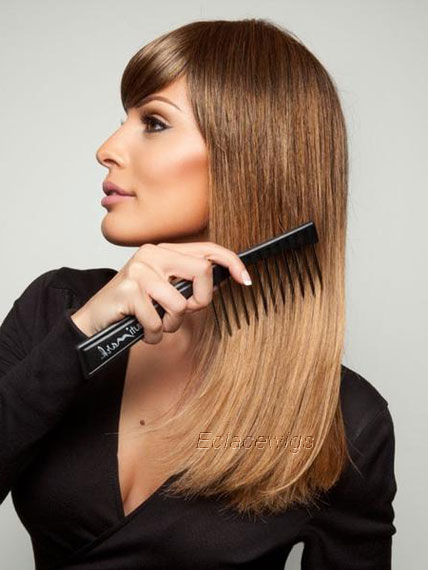 3.It's better that human hair wig be deep conditioned once after wearing for 10 days. Choose a deep conditioner that has hydrating ingredients, such as shea butter. Wrap a warm towel around the wig for 15 minutes to allow the conditioner to penetrate the hair thoroughly.
4.Put one cup water and one tsp. glycerin into a spray bottle. Shake it up and spray your human hair wig once everday!Then the short-tempered wig will looks natural and new.
there is no information