How to color synthetic hair?
CopyFrom: Author:Vivian DateTime:2013-03-21 Hits:107
Beautiful natural hair is porous, and it will be easily accepted hair coloring. However,what about synthetic hair wig? the smooth plastic fibers of the synthetic hair are unacceptable coloring while human hair can be colored. Whether it is due to illness or select, some people think that wearing a synthetic wig. Is there a way to change the color of the synthetic hair, or it takes forever to maintain the same color? Synthetic hair can not be dyed to light colors, there are ways to make the color darker or richer.
Greatly change the color of the synthetic hair, choose a liquid synthetic fabric dye in your desired color. Dissolve 4 ounces of dye to a gallon of water, The hair piece immersed in the dye and let it soak for at least 45 minutes. Continue this process until you have reached your desired color. Rinse with water, and then take care of your hair piece recommended by the manufacturer.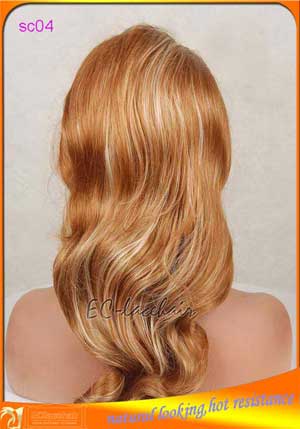 If you want a soft change, synthetic hair pieces,a bottle of Roux Fancifull Hair Rinse is a good solution. The colorant is evenly distributed in the entire hair, and was poured into a spray bottle. Spray hair Fancifull, but do not rinse. Allow drying. If necessary, re-spray.
If you want a fun, colorful stripes in your hairpiece, to add color crook tag or permanent ink color stripes. Starting from the root to hold a marker, so that the tip of the wide-angle end to the hair shaft. Running along the hair, until you have the results you want. This may be a long, slow process, so it is the best plan to do so, you have a lot of free time sitting.

there is no information