Shedding of a lace wig sometimes due to the fact that hair is hand tied by a single knot (sometimes double knot),to ensure of shedding is minimized, Sassy secret uses a technique of infusing a small amount of glue with the knots to further secure and fortify. While, this does not completely eliminate the problem of shedding, it does significantly minimize excessive knot slippage. Sometimes shedding were caused becuase of bleaching knots or color hair by unprofessional users. Excessive shedding can cause thinning of the hair and bald patches on your unit.In order to reduce these effects it is very important to take proper care at home, in combing, styling and everyday use. Here is something to avoid.
Reasons shedding bald / thinning.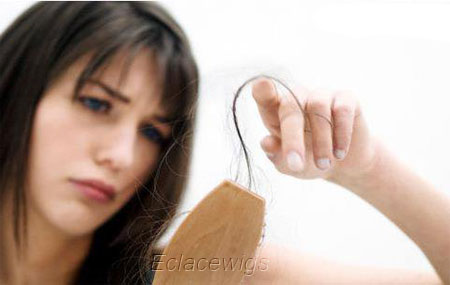 1. Combing the lace wig, although it is still wet wash and air-conditioning
2. Roughness, combing and cleaning / process the wig
3. Your device using oily or greasy hair care products
4. Your unit does not completely remove the binder before cleaning
5. Using hot or warm water, washing
6. Combing your wig from root to tip, not from the top to the root.
Here are some maintenance technology, which will help prevent excessive hair loss.
2.Bleaching hair too hard.
3.Seal knots
Knots sealer is a product used to seal the knot wig in a small spray bottle. Open net inside out, spray on the wig, lace, and allow it to dry completely before wearing it. Equally important is that you re-seal knot after each wash. Waiting for your unit is completely dry, then spray the knot sealing machine. Caking agent is the "Accessories" section in our website.
4. Don't scratch your scalp through lace of the wig,this will cause shedding,instead,pat your head or remove your unit and treat your scalp antipruritic shampoo and moisturizing your scalp.
5. Use a wide-toothed comb or wig brush (cushion brush). The tip of the comb, while keeping hair above, so you avoid pulling pimple.
6. Do not comb the full lace wig or lace front wig when wet. Before make sure you comb thoroughly wash your hair.
7. Don't use hair care products with high Alcohol content i.e Spritz, Hair Spray, Shampoos etc,
these products may damage the hair and cause breakage and / or fall off.
8. From the full lace wig or lace front wig, you have to completely remove the adhesive residue. The adhesive build your equipment will cause a drop
9. Do not blow dry or to sit hot under dryer. We strongly suggest that your unit to dry after washing. If you have dry brow, make sure it is a cool setting. The heat of the hair dryer will damage / split junction causing shedding.
10.It is best to braid up your hair when sleeping,so it does not tangle while you sleep, your hair pulled. You should gently combing your unit every night before it wrapped in a scarf. Is very important to you packed in your head hat scarf or silk or satin, which will help prevent friction, which will lead to breakage and / or shedding.