How To Care & Wash Full Lace Wig Or Lace Front Wig?
CopyFrom:www.eclacewigs.com Author:Sheng Yuan DateTime:2013-04-13 Hits:104
Although human hair wigs are much more expensive then the synthetic wigs, human hair full lace wig and lace front wig can offer you natural appearance, whether you wear them everyday or for only use sometimes for speical situation. However, their are lots of persons don't know clearly how to care human hair lace wigs, they were made from real hair does not mean you can treat it like your own hair on head. Real hair wigs are more expensive,but are also more natural looking and have higher quality,There are things you must do to protect your unit which will allow it to last and looks wonderful for years.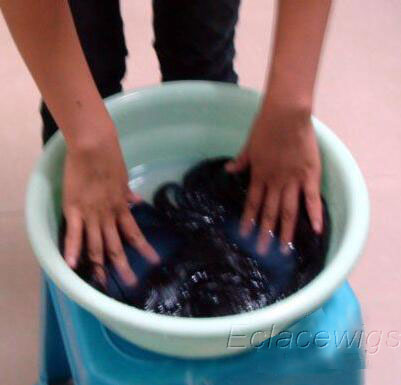 1.Protect the full lace or front lace wig from an oily appearance by keeping your own hair clean. Besides washing your own hair, you can also wear a wig cap under the unit.
2,Don't Wash human hair wigs frequently; wear it for about six times between washings. However, if it starts looking oily or dirty, then decrease the wearing times between washings.Comb out any tangles before wash your full lace wig or lace front wig,b/brush through the tangles use the appropriate brush or combs.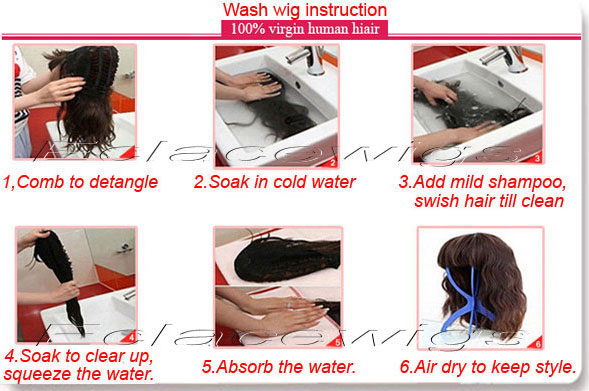 3.Fill a sink with lukewarm water and add wig shampoo and add a little conditioner. Soak the wig in the water and let set for a few minutes.Gently squeeze out the excess water. Rinse well in cool water.

4.Rinse the wig in cool water. Pour shampoo in your hand and gently massage the unit. Be careful not to overdo the massage. Rinse well in lukewarm water.


6.Pour conditioner in your hand, the amount will depend upon the bottle's directions. Massage it into the unit and allow to stand for a few minutes. Rinse well in lukewarm water. Gently squeeze out excess water out of the unit.
7.Place the unit in a towel and blot gently to towel dry.Hang the unit to dry or place it on a wig stand. If you use a hair dryer, place it on a low setting. You can style the unit with rollers and setting lotion or use a curling iron once it dries.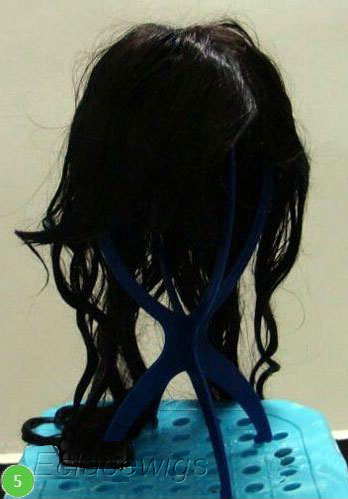 If you need to wear it soon, a human hair wig can be dried with a blow dryer set on low temperature.
8.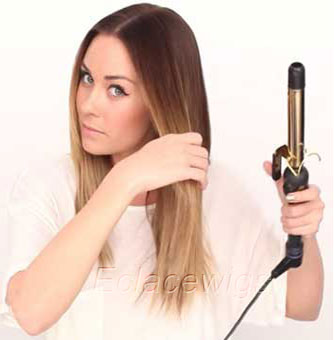 Comb or brush gently through the wig. Style using hot rollers or curling iron or Velcro rollers,do not change it's original style when you style curly wigs,only natural curly or straight hair can be styled to any texture you like. Set with a wig spray or light hairspray when complete care your lace wig.
there is no information