How To Color Full Lace Wig And Lace Front Wig?
CopyFrom: Author:Sheng Yuan DateTime:2013-04-14 Hits:115
Even human hair full lace wig and lace front wig are much more expensive than synthetic wigs,more and more women prefer wearing human hair wigs,they give them more natural looking and can last for years.not only these factors,human hair lace wigs can be styled,includeing coloring.
Human hair wigs include full lace wig and lace front wig,here is instruction of how to color the wig yourself.
1.Wash the full lace wig/lace front wig several days before coloring it to remove any styling product buildup. Do not apply conditioner or styling product to the wig before coloring. Allow it to dry completely before coloring.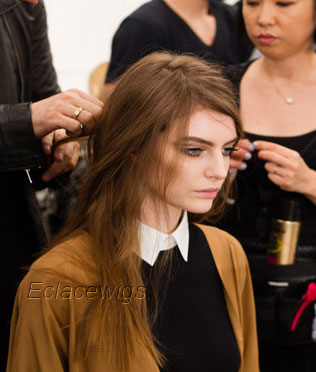 2.Secure the clean, dry wig to the wig head using T-pins. Comb through the wig to remove tangles. Put on the disposable gloves and mix the hair color in the bowl according to package directions.
3.Use the hair color brush to apply the color to the full lace wig/lace front wig. Make sure all strands of hair are thoroughly covered. Keep the color away from the hair knots at the base of the wig as well as the wig's cap.
4.Wait 10 minutes for the color to set. Remove the full lace wig or lace front wig from the wig head and rinse in lukewarm water until the water runs clear. Apply the after-color conditioner and leave it on for the length of time stated on the package's directions. Rinse thoroughly.
5.Put the full lace wig/lace front wig on a towel and blot to remove excess water, replacing wet towels if necessary. Pin the wig back onto the wig head and comb through gently. Let the wig to air dry thoroughly before applying on head or put in box.
Name:Sheng Yuan

Content:Natural color human hair wigs can be dyed to darker colors,blonde colors should be bleached by strong hair type,such as brazilian hair....

[More]
---