How to Stop Human Hair Wig Frizzing and Tangling?
CopyFrom: Author: DateTime:2019-04-09 Hits:10081
Lace wigs are most popular used these years.hair strands are tied on lace base that is on whole wig cap or just at front.the can be worn for weeks without being removed. Women like to wear them when swimming,exercising, bathing and sleeping.They'll feel very upset when they get a wig that tend to tangle and frizz sometimes,this means the quality is not so good.Such a lace wig can let others easily find they are wearing a wig. By taking care of lace wig, you can regain confidence quickly:
1.Shampoo and wash the lace wig once every 15 wearings or 7~10 days,just use regular shampoo,this will remove buildup and will stop tangles,spray hair with a mixture of 90% water and 10% conditioner, one section at a time before shampoo to prevent hair from swelling up and tangling after shampoo hair.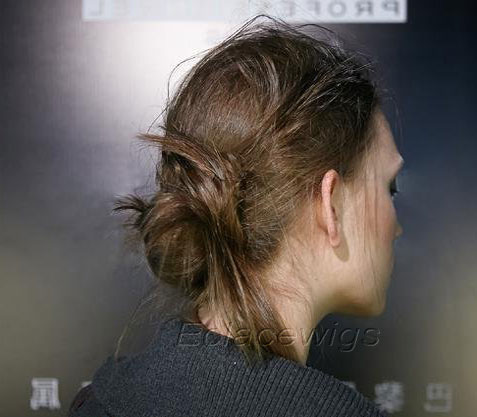 2.Apply a curling iron with low setting to the ends of frizzed unit.Before applying heat,test a small patch of hair from backside or other old wig hair; some kind of indian hair can't afford heat and can melt or frizz more,they are not so strong as Brazilian hair or European hair.
3.Store the lace wig on a wig stand,this can prevent tangling and frizzing,it can keep the band from folding and allow air to flow through the hair.Apply leave-in conditioner every day,use the mixture of 10% conditioner and 90% cool water.Trim the tips of the hair with olive oil many times each week when it becomes too frizzy.
4.Avoid heat sources,when you have to wear a human hair around heat or sleep,wear a lightly wrapped scarf on the hair to protect hair from frizzing.
5.Use a satin scarf on your hair or on a satin pillowcase to stop tangles and frizz when sleep.
there is no information